'Black Lightning' TV Series Coming From Greg Berlanti And 'Being Mary Jane' Creator Mara Brock Akil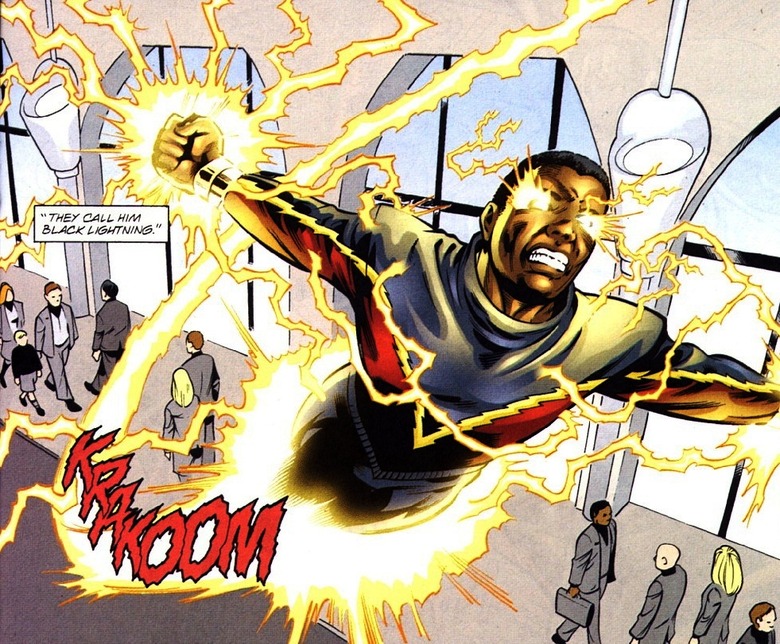 If Greg Berlanti has a superpower, it's launching superhero shows. In just the past four years he's helped create Arrow, The Flash, Legends of Tomorrow, and Supergirl. One assumes he'll reach his limits someday, just like any superhero, but today is not that day. His next new television project is Black Lightning, based on one of DC Comics' first major African-American superheroes. He'll team with Being Mary Jane and The Game creator Mara Brock Akil and her husband, producer Salim Akil. 
Deadline reports Warner Bros. TV, Berlanti Productions, and Akil Productions are all joining forces for Black Lightning, which is being shopped to networks right now. The Akils wrote the script and will executive produce. Berlanti also serves as executive producer, along with Sarah Schechter (also of Arrowverse fame). Black Lightning has been in development for over a year as the studio has taken its time fine-tuning the project.
Created in 1977 by Tony Isabella and Trevor Von Eeden, Black Lightning is the alias of Jefferson Pierce, a former Olympic decathlete and now the principal of his local high school. He's a metahuman born with the ability to generate and manipulate electrical energy, which among other things he can use to generate force fields or fly in a limited capacity. He has two daughters, both of whom follows in his footsteps to become superheroes: Anissa, a.k.a. Thunder, and Jennifer, a.k.a. Lightning.
In the show, Jefferson Pierce has long since hung up his Black Lightning suit and given up his secret identity. But when his daughter sets her sights on justice, and a local gang comes after one of his star students, he's inevitably pulled back into his old vigilante ways. It sounds like a refreshing take on the typical superhero drama, as most of the big ones right now revolve around young adults. An older, more jaded superhero should make for a nice complement to all those younger-skewing shows.
In addition to all of his Arrowverse shows, Berlanti has the Archie Comics drama Riverdale coming to The CW next season. Mara Brock Akil created Being Mary Jane, The Game, and its predecessor Girlfriends. Salim Akil has directed episodes of all three and also serves as executive producer on Being Mary Jane and The Game.