Stranger Things Season 2: Meet The New Characters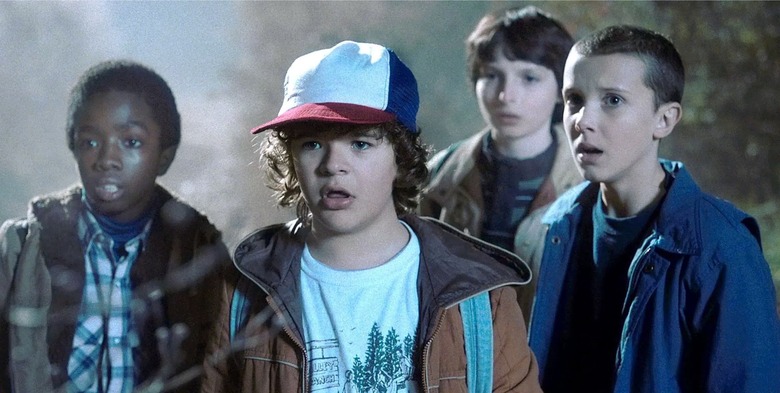 Earlier this week it was announced that Netflix would be producing a second season of Stranger Things, to hit your screen in 2017. We got a peek at the episode titles and tried to decipher what they might mean, and The Duffer Brothers provided some details of what we can expect. Among the information was that the second season will take place about a year later (in 1984) and will add four new characters to the story. And now that Netflix and the Duffer crew have begun casting, we have our first look at the new characters. Hit the jump to learn about Stranger Things season 2's new characters.
Stranger Things Season 2's New Characters
Previously The Duffer Brothers revealed that four new characters would be introduced in Stranger Things season 2. Matt Duffer teased that "There's going to be a lot of new and interesting dynamics that we didn't see in season 1." TV Line and THR have obtained the information on the characters, apparently though casting channels. Here is the first look at three of the four new characters:
Max a 12-14-year-old female described as "tough and confident"  and whose "appearance, behavior and pursuits seem more typical of boys than of girls in this era." Max uses her skateboard to get around everywhere. She has a difficult relationship with her step-brother Billy that's "made her protective of her past and  generally suspicious of those around her." She's also good on a skateboard, which she uses to get around pretty much everywhere. Remember, the premiere episode title for Season 2 is titled "MadMax," which we've theorized about previously. We weren't sure if this was a reference comparing the Upside Down to the post-apocalyptic world of Mad Max or possibly a reference to Chief Hopper, who like Mad Max, had lost a loved one and is on a mission to make things right. Of course, it makes sense that a new character introduced named Max. I wonder what has made Max so "mad"?
Billy is  Max's "very muscular and hyper-confident" Camaro-driving older step-brother. There're rumors that Billy may have even killed someone at a past school he attended, but his "violent and unpredictable nature shows itself to those closest to him, especially to ones who are younger than he is." He steals people's girlfriends and is good at drinking games. The ninth episode of the second season is titled "The Lost Brother," so Billy may play a significant role in the new story.
Roman is a thirtysomething who grew up homeless with a drug-addicted mother and suffered "a great loss at an early age and has been seeking revenge ever since." THR adds that Roman is "ultimately an outsider who doesn't understand how to connect with people." Interestingly, while the name is male, the role is being cast gender-neutral. This means it could end up as a female character, possibly even with a different name. Could it be that Roman's brother or sister were taken to be part of the research program? Or maybe they were also taken by a monster from the Upside Down, although there is no evidence that a portal to that dimension had opened up before the events we saw in the first season. Also, this character sounds more like a reference to Mad Max than the new Max character. /Film reader Aaron Morgan points out that Roman could possibly be related to Barb, and we know that season 2 will bring "justice for Barb."
The short logline included on the casting breakdown follows:
"When terrifying supernatural forces once begin to affect Hawkins, they realize Will's disappearance was only the beginning. And so the adventure continues ..."
The Duffer Brothers have said that season 2 will be a continuation of this story from the viewpoint of our main characters. Producer Shawn Levy told us:
The plan is to continue with this set of characters while introducing a few critical key new ones next season. So I'll just say that a lot of the big mysteries get answered at the end of Season 1, but we are very much kind of unearthing new problems and questions that merit future stories and future investigation in the most enjoyable way. So we are in love with our cast and our characters. Things end up being resolved to some extent at the end of Season 1, but not entirely. And that's why we're so hopeful we get another few seasons to live with these people a little longer.
And the Duffer Brothers have stated they prefer to look at it as a "sequel" rather than a "second season."
"Will goes missing is like [when] Carol Anne goes missing in 'Poltergeist' and then you get Carol Anne back," Ross said. "That feels like a movie. In the sequels, you're still following that family as terrible things happen, but it's a different tension and characters are dealing with other things."
So one has to wonder how Max and Billy fit into this "sequel." What is the inciting incident?
Stranger Things will shoot in Atlanta, Georgia, from October 2016 to April 2017, and will be released on Netflix sometime later in 2017.