They're Giving Jackie Chan An Honorary Oscar And All Is Right With The World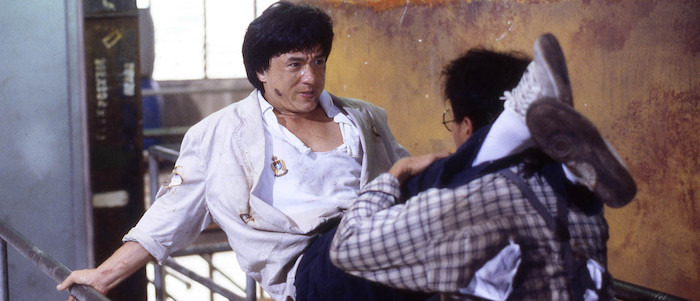 Although they stopped televising them in 2009, the Academy of Motion Picture Arts and Sciences' Governor Awards remain one of the most gratifying portions of the awards season. Free from the politics that constantly swirl around the main race and the various vicious campaigns within it, the honorary Oscars are just about honoring people who deserve a salute for their contributions to the film industry. And in many cases, it means actors, writers, directors, and producers who normally wouldn't have a shot in a traditional ceremony getting their chance to claim a little golden man of their own.
This year's four winners are about as eclectic as you can get: film editor Anne Coates, casting director Lynn Stalmaster, documentary filmmaker Frederick Wiseman, and martial artist and actor Jackie Chan. Yes, the Jackie Chan. They're giving Jackie Chan an Academy Award.
While Jackie Chan being given an honorary Oscar feels genuinely surprising, no one can say it's unearned. With 131 credits to his name, Chan is one of the most recognizable and beloved actors in the world and he's had few imitators. After all, few other actors, martial artists and stunt people can do exactly what he does. His brand of action, which involves blending genuinely dangerous, death-defying stunts with cheeky comedy, is one of a kind. Chan has more in common with silent comedians like Buster Keaton than he does with most modern action heroes. To see the Academy give an honor to a performer like this, a man who has built his entire career on breaking every bone in his body in the name of fun, is genuinely thrilling.
Of course, other honorees are also hugely impressive. Anne Coates is one of the film industry's leading editors and continues to work at the age of 90 (she edited 50 Shades of Grey last year!). She is best known for her Oscar-winning work on Lawrence of Arabia, but she also cut The Elephant Man, Murder on the Orient Express, Out of Sight, and Erin Brockovich. She also edited Masters of the Universe, which is kind of an astounding piece of trivia. In addition to her single win, she was nominated for four other Academy Awards.
Lynn Stalmaster is the least famous of the bunch, but his contributions behind the scenes have been enormous. As a casting director, he worked on movies like Deliverance, Being There, Coming Home, Superman, Being There, Fiddler on the Roof, In the Heat of the Night, The Thomas Crown Affair, The Right Stuff, and The Untouchables. That is an astounding run of solid-to-great movies.
The award for Frederick Wiseman is particularly wonderful because he has never even been nominated for an Oscar before despite being known as one of America's great documentarians. After arriving on the scene with 1967's Titicut Follies, which explored day-to-day life in a correctional facility for the criminally insane, Wiseman built his career on making movies that explore the daily routines of various institutions. Films like Hospital, High School, Missile, and Ballet followed. He's still working today at the age of 86, with National Gallery and In Jackson Heights garnering acclaim in 2014 and 2015.
The Academy's 8th Annual Governors Awards will be held on Saturday, November 12. As is tradition, brief snippets from the winners' speeches will be shown at the full Oscar ceremony a few months later.