'Mascots' Trailer: Netflix Hasn't Changed Christopher Guest At All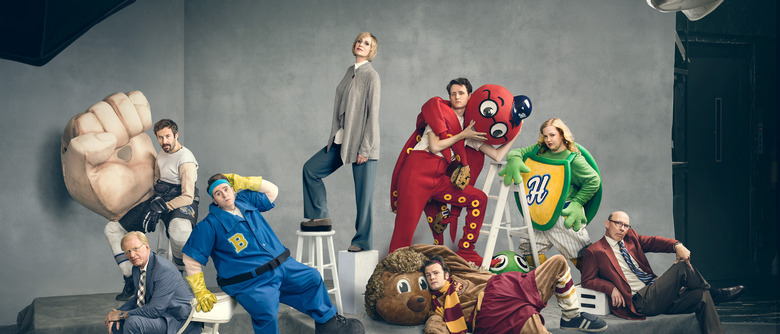 This fall's best comedy may be one that's skipping theaters altogether. Last year Netflix scooped up Christopher Guest's Mascots for release, and today it's revealed the first full-length trailer. The premise is certainly unusual — the film follows a bunch of sports mascots competing for the Golden Fluffy award — but otherwise this looks like a typical Guest movie. Which is to say it's a mockumentary that looks hilarious in a dry sort of way, full of oblivious oddballs that somehow still come across as strangely lovable.
Mascots also brings back many of Guest's usual favorite actors including Parker Posey, Jane Lynch, Ed Begley Jr., Fred Willard, Jennifer Coolidge, and Bob Balaban. They're joined by some newer additions including Chris O'Dowd, Sarah Baker, Zach Woods, and Tom Bennett (the comedic breakout of Whit Stillman's Love & Friendship). Watch the Mascots trailer below. 
Mascots is part of Netflix's efforts to ramp up their feature film slate, and Guest seems like a particularly good fit for the streaming service. His comedies have never been box office juggernauts, but he's got a devoted following who'd probably willingly follow him to Netflix. Plus, his comedies tend to work really well on TV or home video, where viewers can watch them again and again and revisit all their favorite jokes. I know I seem to be physically incapable of turning off Best in Show any time it pops up on the HBO rotation. Hopefully Mascots will prove another worthy addition to the catalogue.Mascots hits Netflix October 13.
Mascots is a new comedy from Christopher Guest, director of Waiting for Guffman and Best in Show. Starring many of his regular troupe of actors, this latest film takes place in the ultra-competitive world of sports mascots where they compete for the most prestigious award in their field, the Gold Fluffy.
The Netflix original film stars Jane Lynch, Parker Posey, Fred Willard, Ed Begley, Jr., Christopher Moynihan, Don Lake, Brad Williams, Zach Woods, Chris O'Dowd, Susan Yeagley, Sarah Baker, Tom Bennett, Kerry Godliman, Bob Balaban, Jennifer Coolidge, Michael Hitchcock, Maria Blasucci, John Michael Higgins, and Jim Piddock. The film was written by Christopher Guest & Jim Piddock and produced by Karen Murphy. Mascots will launch globally on Netflix on 13 October 2016.