LOL: Jimmy Fallon's 'Stranger Things' Parody Finally Delivers Justice For Barb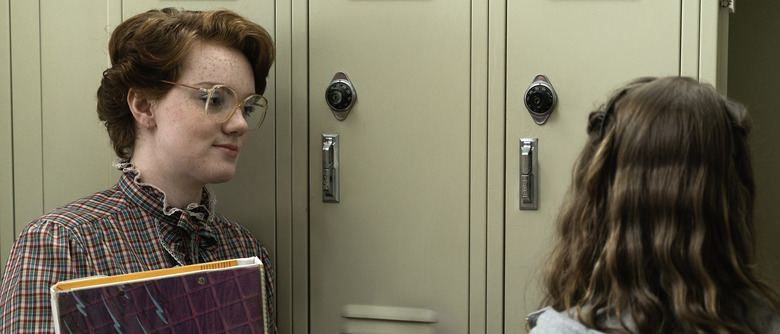 Stranger Things creators Matt and Ross Duffer were promising "justice for Barb" in season two before Netflix even got around to confirming there'd be a season two. But it looks like Jimmy Fallon beat the Duffers to the punch. In a Tonight Show parody, Barb returns to the Wheelers' basement to give Mike, Eleven, and the rest of the gang a piece of her mind. Turns out she's none too pleased about how things went down last season.
Watch the Jimmy Fallon Stranger Things parody below. Be warned there are MAJOR SPOILERS ahead for season one. 
The younger kids are all back for the Stranger Things parody – Finn Wolfhard as Mike, Caleb McLaughlin as Lucas, Gaten Matarazzo as Dustin, and Millie Bobby Brown as Eleven — but Fallon himself steps into the role of Steve. Barb is played by Tonight Show writer A.D. Miles.
A lot of bad things happened to the characters on Stranger Things last season, but no one suffered more than poor Barb. Sure, Will got dragged into the Upside Down, but he got rescued in the end and was able to return to the warm embrace of his friends and family in the regular world. Barb died all alone in the Upside Down, and all because Nancy dragged her to some crappy house party where she was peer-pressured into shotgunning a beer. (Though things could've been even worse, apparently.)
Making matters worse, no one but Nancy even seemed to notice Barb was gone, as the parody video points out. "No one ever cares that I was missing!" screams Miles' Barb. "No search party for Barb! No fake corpse stuffed with cotton for Barb!"
That kind of betrayal is bound to make a girl bitter, so perhaps it shouldn't come as a surprise when "Barb" reveals how she finally managed to get out of the Upside Down. "I just made a trade with the Demogorgon. And I gave him your friend Will. Straight up."
But don't assume that just because Barb is back in the land of the living, she'll be back on Stranger Things next season. "Barb's getting her own Netflix spinoff: Orange Is the New Bitch!" she declares in the video. It's a more cheerful explanation than the real reason Barb won't be in Stranger Things 2, which is that she is really and truly dead. And the Duffers have already more or less ruled out her return. "I can't see it happening," Matt Duffer admitted in an interview last month.