Fox Developing 'Camelot', Which Reimagines King Arthur As A Graffiti Artist Battling Dark Magic (Really)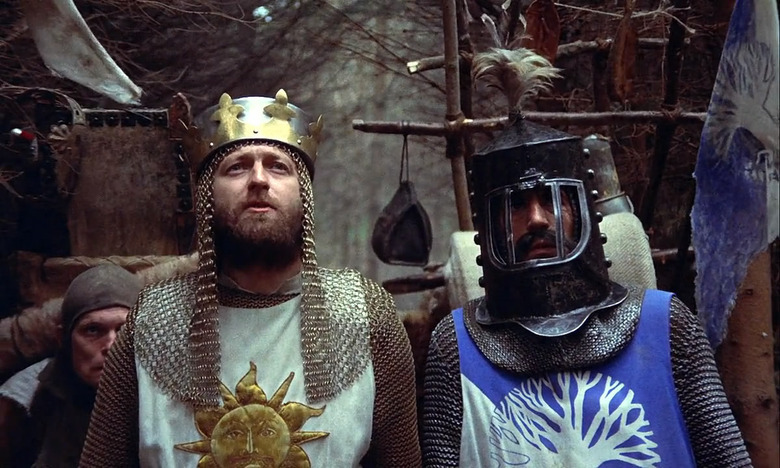 King Arthur is having a moment. Next year sees him getting the Guy Ritchie treatment in King Arthur: Legend of the Sword and cozying up to alien robots in Transformers: The Last Knight. Now we may also see him hit the small screen, albeit in a slightly different form than we're used to. Fox is developing Camelot, which reimagines the legendary medieval ruler as a graffiti artist(!) who teams with his cop ex-girlfriend Gwen(!!) to battle modern crime and ancient magic(!!!).
Okay, that premise is so weird it seems worth emphasizing that this is not a joke, at least as far as we know. Here's how The Hollywood Reporter describes Camelot:
When an ancient magic reawakens in modern-day Manhattan, a graffiti artist named Art must team with his best friend Lance and his ex, Gwen — an idealistic cop — in order to realize his destiny and fight back against the evil forces that threaten the city.
(Pictured above is the King Arthur version of Monty Python and the Holy Grail, to help convey how silly this whole thing sounds.)
Is this premise terrible, or so terrible it's kind of brilliant? Certainly it's attention-grabbing, as evidenced by the fact that we're discussing this right now. Mostly, it just sounds like Fox is trying to replicate the success of Sleepy Hollow, which brought Ichabod Crane into the present so he could team up with a cop to fight evil magic. The first season was a glorious bounty of WTF-ery, but the following seasons haven't been able to match that early charm or those early ratings. Why not try again with a new show that has a similar vibe?
Fox has given Camelot a script plus penalty commitment, so there's no guarantee the show will ever actually make it to air. In the meantime, though, feel free to theorize away about how Arthur's most famous exploits might be translated to modern-day New York. Will Excalibur turn into a magical MetroCard stuck in a defunct machine? Will Merlin become a wise old-timer who remembers Williamsburg before it got gentrified? Will "The Round Table" be the name of the Lower East Side dive bar where all our heroes hang out?
Camelot is created by Dan Frey and Russell Sommer, who will write the script and executive produce. Gail Berman and Joe Earley of The Jackal Group are also serving as executive producers. Frey and Sommer landed on the 2012 Black List with their script Bleeding Kansas, and in 2014 sold a superhero pitch called Eternal to Paramount. They previously teamed up with Fox and Len Wiseman (who co-created Sleepy Hollow) for a St. Patrick miniseries that never got made.