A Whole Bunch Of 'Rogue One: A Star Wars Story' Toys Revealed, Short Film Contest Announced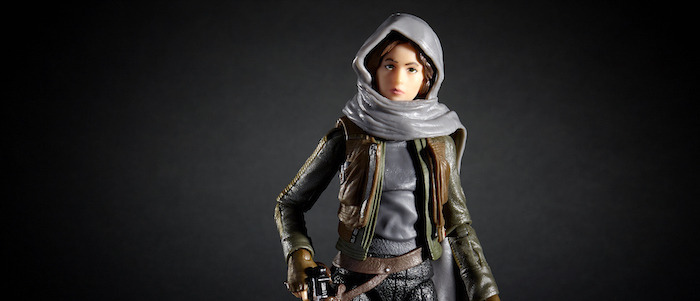 Images of supposedly top secret new toys from Rogue One: A Star Wars Story have been trickling online for months now, but Lucasfilm, Disney, Hasbro, LEGO, Mattel, and everyone else at the merchandising end of the Star Wars franchise have gone and made everything nice and official. A whole bunch of official Star Wars toys were revealed today, showing off toys for collectors, builders, and, of course, kids looking to just re-enact their favorite scenes on their bedroom floors.
The toy reveals were spread across several outlets, with Entertainment Weekly, USA Today, and Yahoo all revealing different portions of the new Rogue One toy line. We've collected some of the best images in the gallery at the bottom of this article, but you can follow those links if you want to see every little thing that has been released thus far.
But before you start going through slide shows and exploring photo galleries, you may want to watch the first installment of Star Wars: Go Rogue, a new stop-motion animated series that uses the new toy line to tell a very cute and impressively made story involving the Rogue One characters.
Here are some details about the Go Rogue series taken from the official press release:
The fan-created shorts showcasing the new line of "Rogue One" toys for the first time launches on the Star Wars YouTube channel today, with new installments rolling out through September. The team was lead by James DeJulio at Tongal, and the series was written by Kevin Ulrich and brought to life by stop-motion animators and directors Dan MacKenzie and Tucker Barrie.
This series also serves as an announcement for an upcoming contest that will allow fans to create their own short films using Star Wars toys. Winners will be selected by a panel and will get to visit Lucasfilm in San Francisco for a screening of Rogue One. Here are the relevant details:
The global contest, which kicks off September 30, invites fans to share their own short stories or skits set in a galaxy far, far away... Winning entries from around the globe will be chosen by a panel including "Rogue One: A Star Wars Story" director Gareth Edwards. Beginning September 30, teen and adult fans can enter the Go Rogue contest on StarWars.com/GoRogue. In addition to the global contest on starwars.com, in the U.S. and parts of Canada, kids 8-12 can participate on Disney.com/MyRogueStory. Winners will be invited to Lucasfilm in San Francisco to attend a screening of "Rogue One," and see their short story on the big screen.
That September 30 start date for the contest is no accident – that's the day for this year's "Force Friday" event (which may or may not be retitled "Rogue Friday"), which is also the day that most of the new toys will officially hit shelves for the first time.
And that brings us to the gallery of toy images. Some of these will be instantly familiar to fans, like the detailed "Black Series" figures, the adorable Funko Pops, and the LEGO sets that let you assemble your own ships. Others, like the highly detailed "Elite Series" figures (which will apparently be a Disney Store exclusive) are new to us. Check out all of the new stuff you'll be wasting your money on over the next few months below!