'La La Land' Early Buzz: Damien Chazelle's Musical Is Classic, Audacious & Vibrant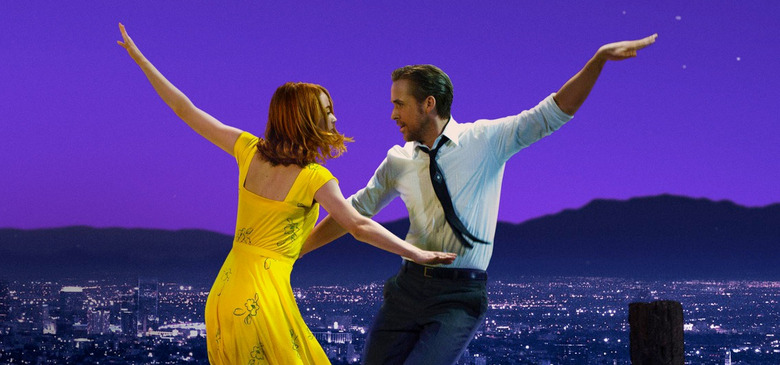 Last night, Damien Chazelle's musical romance La La Land premiered at the Venice Film Festival on the other side of the world. The film is one of my most anticipated films of the year, so I couldn't be happier to hear all the positive buzz coming from the premiere.
The first La La Land reviews reaffirm what we've observed from the trailers, calling the film a loyal homage to classic movie musicals, shot magnificently, and acted superbly by stars Ryan Gosling and Emma Stone with some astounding original music. However, for all the praise that calls the film audacious, exciting and passionate, some reviews also point out that the film has difficulty balancing the fantastical nature of the musical style with the raw, emotional drama that comes between musical numbers, making the film a little uneven.
Read some the early La La Land reviews have to say after the jump.
Before we dive into the full reviews, here are some quick Twitter reactions:
La La Land is the fizziest, most achingly romantic of movies. Chazelle does for musicals what Tarantino did for guns #Venezia73

— CineVue (@CineVue) August 31, 2016
Peter Bradshaw at The Guardian had some nice things t say, but worries that audiences may need time to get used to the film's musical style:
It's an unapologetically romantic homage to classic movie musicals, splashing its poster-paint energy and dream-chasing optimism on the screen. With no little audacity, La La Land seeks its own place somewhere on a continuum between Singin' in the Rain and Woody Allen's Everyone Says I Love You, with a hint of Alan Parker's Fame for the opening sequence, in which a bunch of young kids with big dreams, symbolically stuck in a traffic jam on the freeway leading to Los Angeles, get out of their cars and stage a big dance number.
To be honest, this is where an audience might find its tolerance for this picture's unironic bounce tested, coming as it does right at the top of the show. It takes a little while to get acclimatised, and for the first five minutes, the showtune feel to the musical score might make you feel you're watching a Broadway adaptation. But very soon I was utterly absorbed by this movie's simple storytelling verve and the terrific lead performances from Ryan Gosling and Emma Stone who are both excellent – particularly Stone, who has never been better, her huge doe eyes radiating wit and intelligence when they're not filling with tears.
Todd McCarthy at The Hollywood Reporter praises Damien Chazelle's homage to classic films but also wonders if younger audiences will be enchanted by the proceedings:
The director's feel for a classic but, for all intents and purposes, discarded genre format is instinctive and intense; he really knows how to stage and frame dance and lyrical movement, to transition smoothly from conventional to musical scenes, to turn naturalistic settings into alluring fantasy backdrops for set pieces, and to breathe new life into what many would consider cobwebbed cliches.
The director shares his leading man's preference for bygone styles, and it remains to be seen whether or not the charm and persuasiveness of the film's look and performances are enough to disarm skeptical young audiences who have rarely, if ever, been exposed to the conventions Chazelle employs so enthusiastically and skillfully.
Geoffrey Macnab at The Independent marvels at the film's ambitiousness but discusses the film's unevenness as well:
Damien Chazelle's La La Land is a wildly ambitious widescreen musical drama that, at its best, hits some very high notes indeed. It features exceptional performances from its two leads. The downside is that the film is uneven and has its moments of extreme kitsch and bathos.
As in his previous feature, the Oscar-winning Whiplash, Chazelle is trying to get under the skin of his characters and to show just what they have to sacrifice in their pursuit of artistic excellence. At times, it's as if we are watching two different movies – an escapist musical fantasy and a far darker, earthier drama about a love affair beginning to sour. It's to the credit of Stone and Gosling that they excel both in the comedic moments and in the more fraught and naturalistic scenes.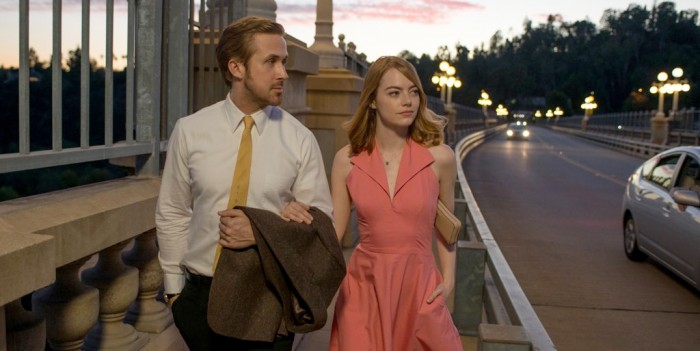 Owen Gleiberman at Variety found plenty to love about the movie, but also notes some of its shortcomings:
La La Land isn't a masterpiece (and on some level it wants to be). Yet it's an exciting ramble of a movie, ardent and full of feeling, passionate but also exquisitely — at times overly — controlled. It winds up swimming in melancholy, yet its most convincing pleasures are the moments when it lifts the audience into a state of old-movie exaltation, leading us to think, "What a glorious feeling. I'm happy again."
Eric Kohn at IndieWire gave the film a B grade and had this to say in the end:
At its best, La La Land probes the irony of its existence, celebrating the greatness of a bygone era in the context of changing times. "That's LA," Sebastian concludes. "They worship everything and they value nothing." But that doesn't stop him from getting fired up about the underlying power of classic jazz. "You can't hear it," he implores Mia. "You have to see it." To that end, La La Land succeeds in making its sweet imagery sing, particularly with the sensational finale. In a wordless explosion of lights and shadows, Chazelle reignites the movie with fresh context that forces it to get real. Here, he arrives at the wrenching conclusion that even the most vibrant fantasy eventually must fade to black.
Pete Hammond at Deadline loves the classic nature of the film and calls it something worth savoring:
It has been a very long time since we have seen something quite this lyrical, lovely, and most importantly, original on the screen, but at the same time it is a musical that has its feet firmly planted in the real world, even if the one up there on the wide Cinemascope screen is very stylized.
Whether it is a dazzling song and dance opening set in a massive traffic jam on an L.A. freeway, or a spectacular sequence with Gosling  and Stone flying high into the skies of the Griffith Observatory, the musical numbers soar  with their own vibrancy and urgency. We live in hard times, but this is a movie worth savoring, something that entertains, enlightens and makes us feel good about being alive. It is not to be missed by anyone who still cares for the future of the American musical.
Finally, Alonso Duralde writes at The Wrap that classic movie lovers will fall in love with this movie:
TCM addicts will swoon over that traffic-jam number, not to mention a dance sequence that delightfully defies gravity. The vocal duets between Stone and Gosling are charming even though they both have singing voices that might diplomatically be called "naturalistic." (Similarly, the songs by composer Justin Hurwitz and Broadway lyricists Pasek and Paul aren't traditional show-stoppers, but they sneak up on you by the second reprise.) The final segment, a fantastical exploration of roads not taken, ranks with the poignant ending of "Umbrellas," and that's high praise for lovers of glamorous cinematic melancholy.
***
Nearly all of the reviews also had endlessly nice things to say about the opening musical number that takes place in the middle of a traffic jam on a Los Angeles freeway. The musical numbers, including the choreography and cinematography, are the most consistently praised parts of the film, not to mention the performances by Ryan Gosling and Emma Stone. Though it's not perfect, this sounds like a refreshingly original musical that will please the romantics out there.
La La Land opens this winter on December 2.