'Luke Cage' Featurette Digs Into The Show's Hip-Hop Influences, With Help From Method Man And A$AP Ferg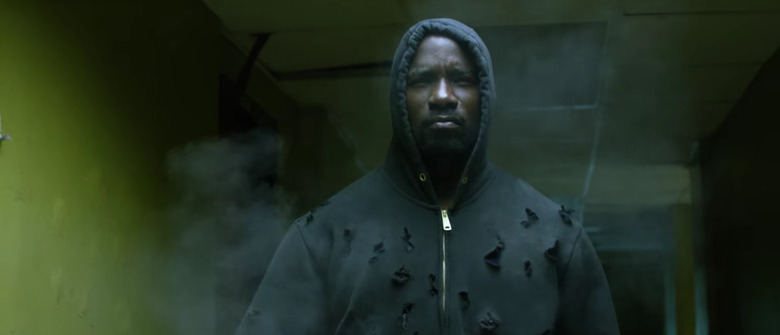 Much has been made of Luke Cage's hip-hop influences. Showrunner Cheo Hodari Coker has talked up the "musicality" of the series, comparing the 13 episodes of season one to tracks on an album and promising big-name guest stars from Faith Evans to Charles Bradley. So ahead of the series' fall debut, Netflix has released a Luke Cage featurette that digs into this particularly unusual element of their next Marvel show.
Coker and his star Mike Colter make appearances as talking heads, of course, and they're joined by Method Man and A$AP Ferg and Luke Cage music supervisors Adrian Younge and Ali Shaheed Muhammad. Watch the Luke Cage music featurette below. 
Music is more than just a trivial detail in Luke Cage. As Coker explains, the beat makes for a perfect complement to the Harlem hero's special powers. "The speed of hip-hop, it happens at the speed of thought," he says. "So if you really ran into Luke and then all of a sudden, boom, there's gonna be a beat. That's all it takes." Music even gives Luke Cage its titles, as each episode is named after Gang Starr songs like "Soliloquy of Chaos" or "Moment of Truth."
While Luke Cage primarily draws from hip-hop, the show takes inspiration from a broad range of music within that genre as music from other genres altogether. "We have music that is inspired by Tribe Called Quest, but at the same time inspired by Wu[-Tang Clan] and Ennio Morricone," says Younge. "We all came together and said we wanted to make something great. Not just for black people or minorities, just something great that just happens to be based on our culture."
Although Luke Cage is the first Marvel Cinematic Universe project to lean so heavily on hip-hop, Method Man sees it as an extension of what the brand already does so well. "Marvel has always had its finger on the pulse of pop culture, and this right here is just taking it even further." And he's not even trying to hide his excitement about this show. "Brothers like me been waiting for it since I was eight years old. And now it's here, and I'm ecstatic," he gushes.
All 13 episodes of Luke Cage drop September 30 on Netflix.