Marvel Developing 'New Warriors' TV Series Featuring Squirrel Girl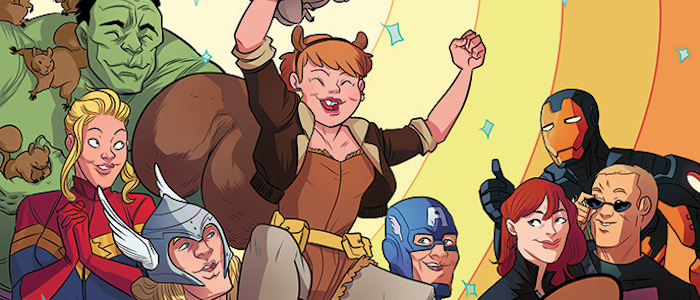 Despite the passionate interest of fans, filmmakers, and movie star alike, Marvel Studios has yet to announce a Squirrel Girl movie and probably never will. But Doreen Green's never been one to give up easily, and now she may have found a different way to slip into the MCU. Marvel and ABC Studios are reportedly developing New Warriors, a half-hour comedy series that puts the spotlight on some of Marvel's younger, lesser-known heroes, including — you guessed it — the unbeatable Squirrel Girl. 
TV Line describes the New Warriors TV series as "the junior version of the Avengers," with a team consisting of teenage superheroes. The New Warriors TV project doesn't have a distributor yet but is being shopped to cable and streaming outlets.
Among the leads will be Squirrel Girl, a chipper young woman who has the proportional speed and strength of a squirrel as well as the ability to communicate with squirrels. The identities of the other heroes remain under wraps. In the comics, other New Warriors members have included Scarlet Spider, Speedball, Nova, Hummingbird, and Justice. Squirrel Girl is part of the Ultimate Spider-Man cartoon version of the team.
So far, the Marvel Cinematic Universe has focused mostly on adult heroes. Most of their leads are in their late 20s and up, from Captain America on the big screen to Daredevil on the small screen. But that looks poised to change over the next couple of years. Captain America: Civil War introduced Spider-Man, the MCU's first real teen superhero. And over the past few months, the studio has announced plans for younger-skewing shows like Cloak and Dagger on Freeform and Runaways on Hulu. New Warriors should fit right in with those efforts.
Squirrel Girl has been around since the early '90s but became a big fan favorite over the past couple of years thanks to Ryan North and Erica Henderson's Unbeatable Squirrel Girl title. Anna Kendrick has been a popular fantasy-cast pick to play a live-action Squirrel Girl, but at 31 she's a bit old to play a teenage version of the character for New Warriors. Barb from Stranger Things, on the other hand, might be just about perfect. Shannon Purser might want to call up her agent to line up some plans following her trip to Riverdale, if she hasn't already.