Karen Gillan Rolls The Dice On 'Jumanji'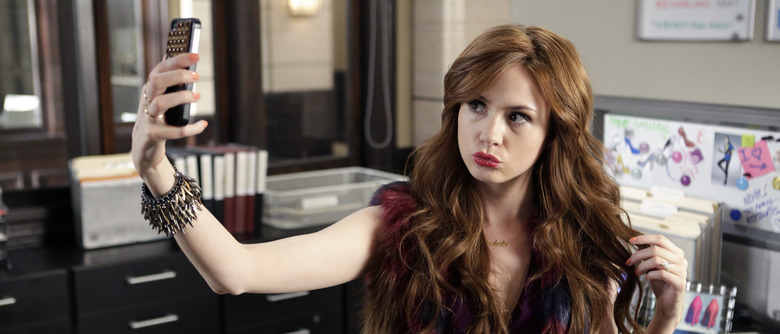 Time will tell what fearsome new creatures and disasters await us in the new Jumanji movie, but among other things we can definitely expect a daughter of Thanos. Karen Gillan has rolled the dice and landed herself a spot in the Jake Kasdan-directed feature, joining Dwayne Johnson, Kevin Hart, Jack Black, and Nick Jonas. More details on the Karen Gillan Jumanji casting, including which character she's playing, below. 
Deadline reports Gillan beat out several A-list names in a months-long search to win the coveted role of "Martha." The trade doesn't offer any further details about the character, but could this be the same Martha played by Annabel Kershaw in the 1995 film? Her Martha was the mother of Judy and Peter, the kids played by Kirsten Dunst and Bradley Pierce. Gillan is much younger than that character would be in 2016, or even than that character probably was in 1995, so could she appear in flashbacks? Or might the new Jumanji be a prequel rather than a sequel? Or is the name just a coincidence? Has Batman v Superman doomed us all to look for Martha-related connections for the rest of our lives?
Whoever Martha turns out to be, she's the last major piece of casting for Kasdan's Jumanji. The film has variously been described as a reboot or a remake, but Johnson clarified recently that it was neither. "For the record, we are NOT making a reboot, but rather a continuation of the awesome Jumanji story," he explained. Shooting is slated to begin next month in Honolulu for release on July 28, 2017. Scott Rosenberg and Jeff Pinkner turned in the most recent script, based on an earlier draft by Chris McKenna and Erik Sommers.
Gillan first broke through as Amy Pond on Doctor Who. Since leaving the sci-fi 2012, she's also turned up in the films Guardians of the Galaxy, Oculus, and In a Valley of Violence, as well as the (underrated and underseen) sitcom Selfie with John Cho. She recently wrapped Guardians of the Galaxy Vol. 2 and James Ponsoldt's Dave Eggers adaptation The Circle.