See J.K. Rowling's Original Sketches Of Harry Potter, Severus Snape, Hagrid & More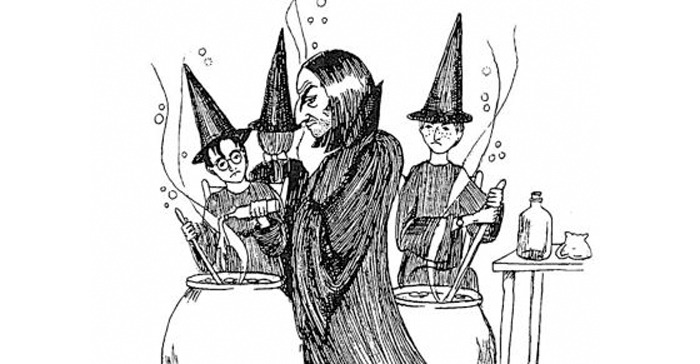 Even though J.K. Rowling has said that Harry Potter and the Cursed Child marks the end of the story of The Boy Who Lived, that doesn't mean she's done given fans some little gems from the wizarding world she created so many years ago. By way of Pottermore, the author has unveiled some of the original sketches she created of characters such as Harry Potter, Rubeus Hagrid, Minerva McGonagall, Severus Snape and even Peeves the Poltergeist.
Check out the J.K. Rowling Harry Potter sketches after the jump.
TIME rounded up the images that appear around Pottermore:
It's cool to see just how much of Rowling's vision for these characters ended up being translated into the illustrations that decorated the cover of each book and the chapter illustrations within. Severus Snape especially has been perfectly replicated based on J.K. Rowling's drawings. Even the big screen iteration of the character played by Alan Rickman greatly resembles the illustration, though Rickman never had the five o'clock shadow as seen in the drawing.
For some of the images, Rowling wrote little retrospective pieces that explained her thought process of creating things in the story such as Potions class, the history of Harry Potter's ancestors and much more. Without a full fledged Harry Potter book in our future, this is a pretty great substitute.
Plus, let's not forget that there are a series of new eBooks on the way soon. Hogwarts: An Incomplete and Unreliable Guide, Short Stories from Hogwarts of Power, Politics and Pesky Poltergeists and Short Stories from Hogwarts of Heroism, Hardship and Dangerous Hobbies. The books all have content that was previously published on Pottermore, but there will be some new stuff included as well. It's just a better way for some fans who don't keep up with the website to get all the information there.
All of this new Harry Potter material is a pretty good way to keep the wizarding world fresh in the mind of fans as the release of Fantastic Beasts and Where to Find Them this fall. The movie is a hopeful franchise starter for Warner Bros. Pictures as they try to keep the magic alive without The Boy Who Lived. The movie will likely be a success, but I'm not sure it'll pull in the same kind of box office numbers as the primary Harry Potter franchise. We'll find out when Fantastic Beasts and Where to Find Them hits theaters on November 18.