'The Maze Runner: The Death Cure' Resumes Production Early Next Year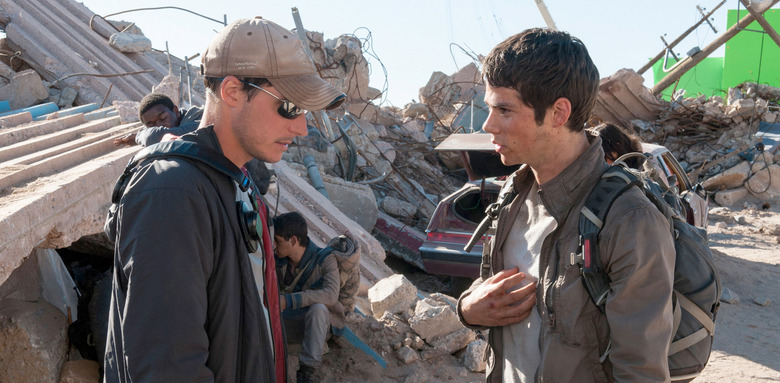 This past spring, production on the sequel The Maze Runner: The Death Cure hit quite a speed bump when a stunt gone wrong injured franchise star Dylan O'Brien. Production was expected to resume in May after O'Brien had a chance to recover, but in late April it was revealed the actor would require more time to heal. That resulted in an indefinite postponement of the shoot and the release date for the sequel being pushed back from February 17, 2017 nearly a full year back to January 12, 2018, but now Dylan O'Brien is ready to shoot again.
Find out when The Maze Runner The Death Cure production resumes after the jump.
Deadline reports The Maze Runner: The Death Cure will star up again in February, however, production will reportedly be in a new location this time. The sequel was originally shooting in British Columbia, but there's no indication as to where production will be heading this time. Wes Ball will still be directing though, with a script by T.S. Nowlin adapting James Dashner's book. For those who don't know what's coming in the sequel, which is the final story in the trilogy, here's the books synopsis:
WICKED has taken everything from Thomas: his life, his memories, and now his only friends—the Gladers. But it's finally over. The trials are complete, after one final test. What WICKED doesn't know is that Thomas remembers far more than they think. And it's enough to prove that he can't believe a word of what they say. Thomas beat the Maze. He survived the Scorch. He'll risk anything to save his friends. But the truth might be what ends it all.
Even though this is meant to be the final chapter of the trilogy, there are two prequel novels that have been published that reveal the events that led up to The Maze Runner. Therefore, the franchise could continue if the box office turns out to be good enough. But since interested waned a bit with The Maze Runner: The Scorch Trials making $20 million less domestically than the first and $36 million less worldwide, I can't imagine the third installment suddenly doing better, so ending with the conclusion of the original trilogy is probably the smartest move for 20th Century Fox.
In addition to the freshly healed Dylan O'Brien, the rest of the cast returning for the sequel includes Kaya Scodelario, Thomas Brodie-Sangster, Rosa Salazar, Barry Pepper and more. Stay tuned for any new details we learn about the sequel once production resumes next year.