'The Greasy Strangler' NSFW Trailer Will Intrigue Fans Of The Gross And Outré, Repulse Everyone Else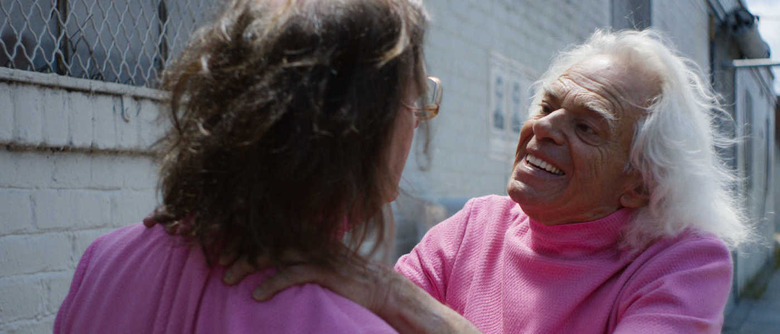 Swiss Army Man made a lot of headlines for sparking walkouts at Sundance, but as the generally positive reviews for that one showed, plenty of critics were won over by Daniel Radcliffe's farting corpse. No, in my experience, the film at this year's festival that really repulsed people was The Greasy Strangler. Jim Hosking's midnight horror comedy centers on a schlubby middle-aged man (Sky Elobar) and his mean old dad (Michael St. Michaels) who, unbeknownst to his son, likes to slather himself in lard and go on killing sprees. Elizabeth De Razzo also stars, as the son's love interest.The Greasy Strangler has drawn comparisons to Tim & Eric, John Waters, and Harmony Korine, among others, which should tell you right off the bat that this is not a movie for everyone. But if you're a fan of the gross and outré, you can check out the first Greasy Strangler trailer below. Be warned that despite the cheerful pink rating card and the friendly-looking G, this video is strictly NSFW. 
As you might expect, The Greasy Strangler has attracted very mixed reviews. Variety described the film as "an exercise in juvenile scatology that's almost awesomely pure in its numbing, repetitious determination to annoy," but seemed to find it more boring than shocking, while a warmer review from The Guardian bills it as "a welcome oasis of filth, depravity and shock in a culture that too often thinks merely being a little weird passes muster." Among the queasy delights you can expect, according to The Hollywood Reporter, are "the gallons of congealing, indeterminate-origin fats; the cartoonish gore; the big and tiny prosthetic penises." Consider your own tolerance for purposely repellent comedy-horror, and proceed accordingly.
If you've thought it over and still think you'd like to check it out, The Greasy Strangler arrives in theaters and on demand October 7.
Directed by Jim Hosking, THE GREASY STRANGLER is a surreal, midnight-horror comedy produced by Timpson Films (Turbo Kid, Deathgasm), Drafthouse Films (distribution arm of cinephile-serving Alamo Drafthouse Cinemas), Rook Films (Kill List), and Elijah Wood's production company SpectreVision (A Girl Walks Home Alone at Night, Cooties). World Premiered in the 2016 Sundance Film Festival Midnight Section.
The Los Angeles-set tale follows Ronnie, a man who runs a Disco Walking tour along with his browbeaten son, Brayden. When a sexy, alluring woman comes to take the tour, it begins a competition between father and son for her attentions. It also signals the appearance of an oily, slimy inhuman maniac who stalks the streets at night and strangles the innocent, soon dubbed 'The Greasy Strangler.'