Rogue One Bits: A #RogueOneWish Comes True, New Toy Reveals, And The Meaning Of The Title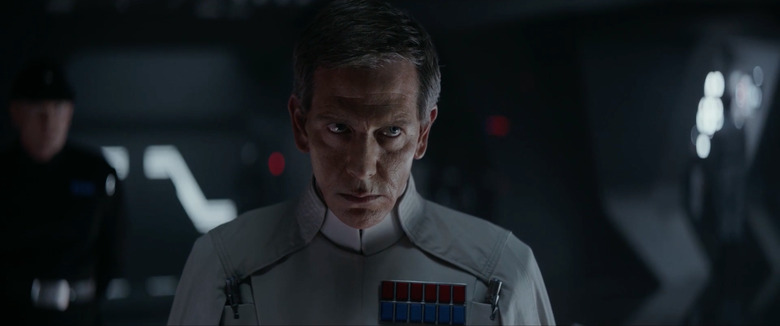 In this edition of Rogue One Bits:
A dying fan had his wish granted to see Rogue One: A Star Wars Story early.
Gareth Edwards tries to explain exactly what "Rogue One" actually means.
Take a first look at the special edition 3D glasses you can buy for Rogue One screenings.
Felicity Jones talks about those reshoots.
New toys have arrived, bearing new alien names.
A new batch of images from the film arrive online.
Looking into a potential (and spoilery) plot point from Rogue One's trailer.
Last year, J.J. Abrams arranged for early screenings of Star Wars: The Force Awakens for terminally ill fans who wouldn't live long enough to see the release date. And this year, Rogue One: A Star Wars Story director Gareth Edwards and Lucasfilm helped another fan achieve one final wish. We first wrote about Neil Hanvey and the #RogueOneWish campaign started by his loved ones in a recent edition of Rogue One Bits. Now, we know that everything came together for Hanvey and he was able to see an early version of the film:
On behalf of Neil Hanvey, his wife Andrea and all his family, we want to thank everyone who supported the #RogueOneWish campaign. The director of Rogue One, Gareth Edwards did all he could to make Saturday a very special day for Neil. Neil, his family and everyone at St Michael's Hospice would like to say thank you to Disney, Lucasfilm and especially Gareth Edwards.
Unfortunately, Hanvey passed away shortly after seeing Rogue One. His wife shared this message:
On behalf of all our family we would like to thank everyone who has passed on their condolences following Neil's death last night. We would also like to thank the tens of thousands of people who supported the #RogueOneWish campaign. All the messages of love during the past week have given us a great deal of comfort during a very difficult time. We would also like to thank everyone at St Michael's Hospice, especially Amy Duncan, without who #RogueOneWish would not have happened. All donations at Neil's funeral will go to the Hospice's Family Support team and will be used to fund work with children and young people. An online donation page will be set-up shortly.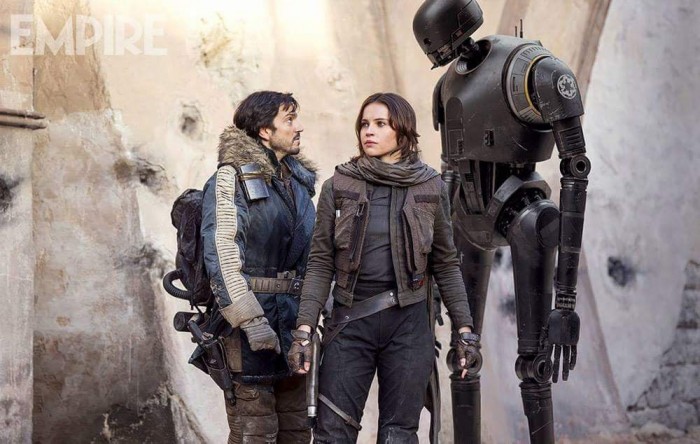 The latest issue of Empire magazine devoted its cover story to Rogue One, revealing a new batch of photographs featuring the main characters. Jyn Erso (Felicity Jones), Cassian Andor (Diego Luna), Bodhi Rook (Riz Ahmed), Chirrut Îmwe (Donnie Yen), Baze Malbus (Jiang Wen), K-2SO (Alan Tudyk), Director Krennic (Ben Mendelsohn), and Gareth Edwards are featured. The images themselves don't reveal too much that we don't already know, but the captions contain a few morsels. For example, Baze is referred to as a "freelance" assassin, Cassian is described as a "steadying influence" for the more hot-headed Jyn, and Jyn herself is called a "forger" in her list of roles. So take from that what you will.
That same issue of Empire finds Gareth Edwards faced with the tough questions. Questions like "What does Rogue One actually mean?" For a long time, fans have been wondering the same thing, with some thinking it was just straightforward military slang and others wondering if it was the name of a ship. It turns out that Edwards himself doesn't even have a good answer for this one:
I'd been thinking about it. What does it mean? Rogue One is a military call sign to some extent, but this is the first film that's gone off-piste and is not part of the saga – or the Anakin story – so it's the 'rogue' one, you know?
He also adds that it could refer to Jyn Erso, who is a bit of a rogue herself. The real takeaway here is that Rogue One is called Rogue One because Rogue One sounds really cool and like something that would be associated with a military-themed Star Wars movie. Fair enough, I guess?
When I wrote my in-depth breakdown of the latest Rogue One trailer, I speculated that (POTENTIAL SPOILERS AHEAD) that the Death Star would see some action in the final film, firing on Jedha to destroy an entire city while not being powerful enough to destroy an entire planet. The latest episode of Star Wars Explained is on the same page as me and goes into detail about why this is likely.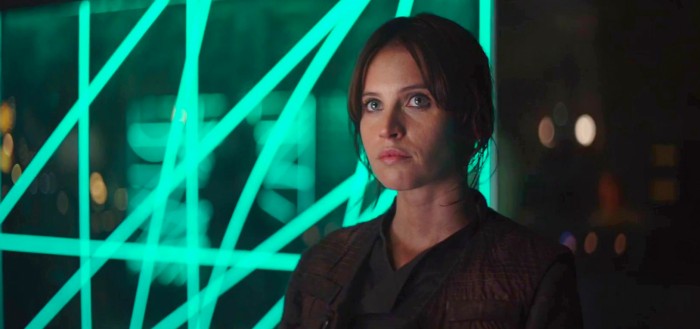 Vulture has posted a brief but entertaining interview with Felicity Jones, where she discusses the three movies she's in this fall: A Monster Calls, Inferno, and, of course, Rogue One: A Star Wars Story. Here she is describing what it's like to work on something as massive as a Star Wars movie:
I have to say that punctuality isn't always my strong point, but when I was making that film, I made damn sure that I was on time every single day.
She also waved off the drama surrounding the weeks of reshoots Rogue One underwent this summer:
Well, you often come back on films. It's just a way of building on what you already have and making the film the best it can be.
This is, once again, the place where I point out that The Force Awakens also underwent extensive reshoots and restructuring after principal photography. This is pretty standard stuff.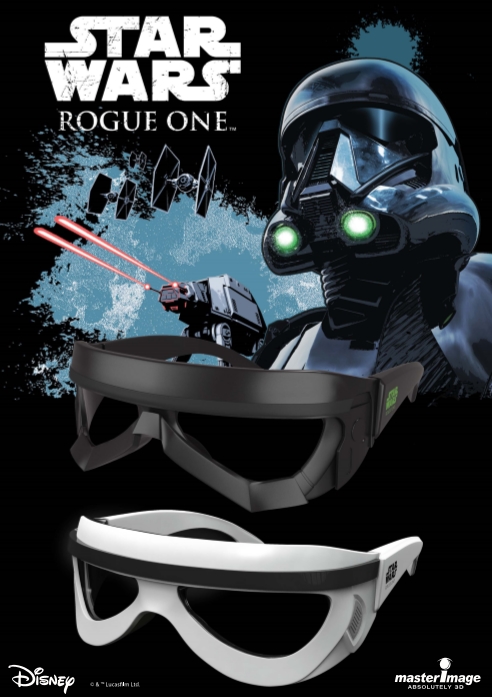 Last year, certain 3D screenings of Star Wars: The Force Awakens allowed audiences to drop a few extra bucks to purchase special edition 3D glasses based on characters like Kylo Ren, Captain Phasma, and BB-8. Rogue One is looking to follow a similar path with two sets of unique glasses inspired by the classic white Stormtroopers and the black-armored Death Troopers created. These aren't quite as cool as the set created for The Force Awakens, but if you're already planning to see Rogue One in 3D (and the 3D for last year's movie was pretty solid), why not do it in style? Goofy, nerdy, collectible style?
Speaking of cool stuff you can (and let's face it, will) spend too much money obtaining, Jedi Temple Archives has shared images of new Star Wars toys hitting the shelves soon, most likely for this year's Force Friday/Rogue Friday. We've already seen the new toy TIE Striker and U-Wing (both of which come equipped with Nerf darts and pilot figures), but we haven't seen the Stormtrooper talking helmet, which looks like a new iteration on that Kylo Ren talking helmet that arrived last year.
However, the real items of interest are three new "vs" action figure packs, which package two different 3.75" inch characters together. One of them is from The Force Awakens, featuring a Snowtrooper Officer and Poe Dameron, and it proves that Oscar Isaac is as difficult to render in plastic as Harrison Ford ever was. The other two feature aliens that were glimpsed in the Star Wars Celebration sizzle reel and we now have names to go with those faces. The space yeti is named Moroff and he comes with a "Scarif Stormtrooper Squad Leader." The fellow with the crunched-up amphibian face is Rebel Commando Pao and he's packaged with a Death Trooper. What we don't know is whether or not these packs represent sequences in the movie or if they're just random pairing of characters. After all, Poe never encountered a Snowtrooper in The Force Awakens and they're packaged together. So don't wager too much on Moroff the space yeti actually taking on a Scarif Stormtrooper in Rogue One. At least not yet.