'Let The Right One In' TV Series Pilot Gets 'Doctor Who' Director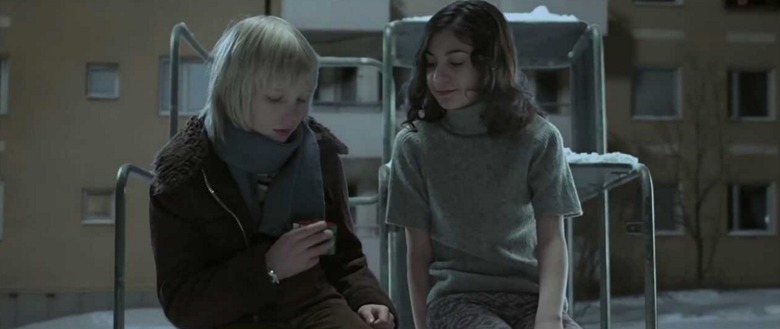 Update: Doctor Who and Happy Valley director Euros Lyn has been hired by TNT to direct the pilot of a television series based on Let The Right One In. Lyn also directed episodes of Daredevil, Black Mirror, Sherlock, Torchwood and Broadchurch. Learn about the Let The Right One In tv series, after the jump.
My original story from August 29th, 2016 follows:
TNT has ordered a pilot for a television series based on Let The Right One In. Based on the best-selling novel by Swedish author John Ajvide Lindqvist which spawned an acclaimed Swedish film adaptation directed by Tomas Alfredson and an American film adaptation titled Let Me In by filmmaker Matt Reeves (Dawn of the Planet of the Apes, Cloverfield).
Deadline reports that the pilot was written by Criminal Minds and Teen Wolf creator Jeff Davis, who would also serve as executive producer with Marty Adelstein (Aquarius, Teen Wolf) and Becky Clements (Aquarius) of Tomorrow Studios and Simon Oakes (Let Me In) of Hammer Films.
In March 2015, we heard that A&E was developing a small screen adaptation of Let the Right One In. Fargo was all the rage, and every network seemed to be announcing television series based on film IP. At the time we were told that A&E won a bidding war that also involved Showtime for the television rights and that Teen Wolf showrunner Jeff Davis and actor-writer Brandon Boyce (Teen Wolf actor; Apt Pupil andWicker Park screenwriter) would be adapting the pilot. The project moved to TNT earlier this year. For those of you who have not seen the original Swedish film adaptation, here is the trailer (I highly recommend watching this movie when you get the chance, its exceptional):
Note: Spoilers for Let the Right One In follow. As Russ Fischer noted last year, the 2008 film left out some characters, plot points and character history, only alluding to some of the history of the seemingly young vampire Eli as she befriends an isolated boy named Oskar.
"In fact, one point the original film only engages in ambiguous fashion is that Eli wasn't born female, but rather is a boy who was castrated by the nobleman who also turned the child into a vampire. With more room to go into character backstories, the TV series may well retain the novel's original approach."
TNT's pilot will apparently be drawing more from the original source material than both of the film adaptations. Here is the synopsis for the television series:
Let the Right One In is an eerie drama about a young boy, long tormented by his classmates, who finds solace in a friendship with a charismatic female vampire who appears to be near his age. The vampire settles into the boy's small Vermont town with her mysterious caretaker, just as a series of bizarre murders begins attracting the attention of law enforcement.
The American adaptation by Matt Reeves further changed the story, transplanting its setting to New Mexico. The A&E versions were to be set in Vermont, which suggests that a snowy environment similar to the original novel and film.
And lastly, here is the trailer for Matt Reeves' Let Me In, which is also a really great film. I think it got ignored by most fans of the original film as the concusses was that an English-Language adaptation seemed unnecessary. But I think those of you who give it a chance will see there is a lot to love about the vision that Reeves brings to this tale.