'Blair Witch' Producer Explains Why Sequels And Remakes Aren't Going Anywhere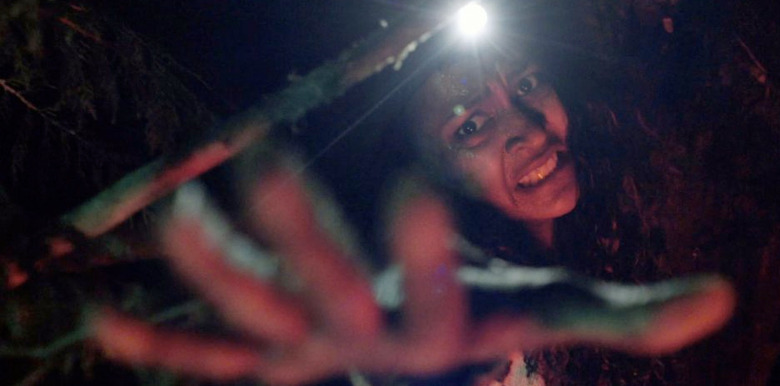 This past summer was pretty disappointing in the sequel and remake department, even if the box office numbers weren't as underwhelming as they may have seemed. This summer's blockbusters just felt mostly underwhelming, but thankfully there are plenty of smaller independent films that are worth seeking out. However, just because this summer churned out some regrettable sequels and remakes, don't expect Hollywood to slow down on churning them out.
Next month brings the sequel Blair Witch to theaters, and while it's a recognizable title, the filmmakers behind it come from the indie world. In fact, the experience of working on a film like this has only solidified why sequels and remakes will continue to be made instead of focusing more on original titles. Producer Keith Calder recently took to Twitter to explain how the kind of attention paid to a movie like Blair Witch compares to his work on movies like The Guest and You're Next.
Here's a series of updates Keith Calder posted to Twitter a few days ago (via IndieWire):
If you want to know why Hollywood keeps doing remakes and sequels and reboots and so on, here is a quick anecdote. I've been producing movies for 10 years at a variety of budgets. Almost all original. Most of them were well reviewed and liked by audiences. BLAIR WITCH was made for around the same budget as most of these movies. But the attention on this release is VASTLY higher than any of them. This is a movie that has no movie stars (just great actors) and literally the same writer and director as some of our other movies. The big difference is the BLAIR WITCH name and brand. It feels like riding a sled downhill instead of pushing a boulder uphill. The only reason I have the opportunity and skills to ride this sled downhill is because of the boulder-pushing over the last 10 years. Now don't get me wrong. I'm going to keep making original movies. But I sure as hell am also going to try to do more movies based on big IP.
While director Adam Wingard, writer Simon Barrett and producer Keith Calder have found moderate success with their indie horror flicks, it's clear that Blair Witch will be the biggest film of their careers so far. The familiarity gives audiences the feeling that they know what to expect from the movie so they're not taking as big of a risk by spending $10+ on a ticket to a movie that they know little to nothing about. That's the biggest hurdle that original films have and why marketing is so important for those movies. But when it comes to remakes or sequels, the awareness is already built in when you simply hear the title.
As a cinephile, this is certainly frustrating because we want to see innovations in storytelling, original ideas brought to the table and something that might become a new classic. That's not to say those types of films can't come in the form of remakes or sequels (Mad Max: Fury Road and John Carpenter's The Thing are prime examples). But for every one of those quality remakes or sequels, there are plenty more that are forgettable.
At the same time, if these blockbuster sequels and remakes means studios make enough money to bring us high quality indie releases such as Hunt for the Wilderpeople, Sing Street, The Lobster, Indignation, Swiss Army Man and more. So go ahead and keep remaking and sequelizing movies, Hollywood, but maybe just try a littler harder to make them worth watching.