Michael Bay Gives A Video Tour Of His Custom RED Camera "The Bayhem"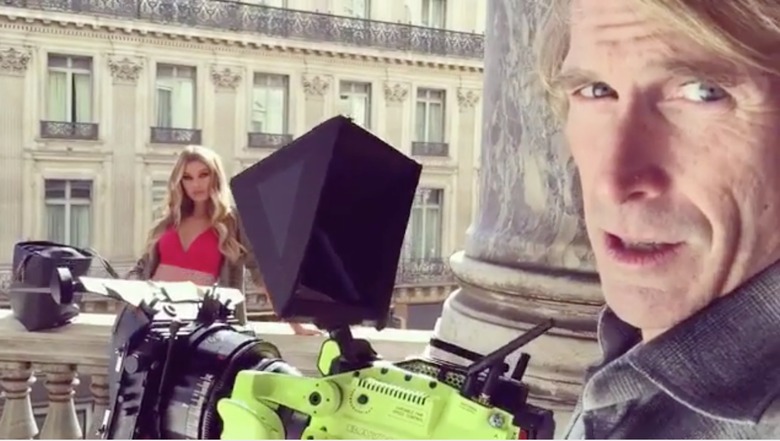 Michael Bay was the first Hollywood filmmaker to film on the Egyptian Pyramids for Transformers: Revenge of the Fallen. The director was given never-before-seen access to the US military to film large scale war sequences for Pearl Harbor. And Bay was the first to use IMAX's first digital camera for Transformers: Age of Extinction. He gets access to things and places that no other filmmaker in the world, before anyone else in the world. The latest of which is a custom RED 8K camera created for the filmmaker for Transformers: The Last Knight. Get a tour of the new "Bayhem" camera from Michael Bay himself, after the jump.
Michael Bay's Custom RED Camera Tour
RED created the custom camera for director Michael Bay for his latest film Transformers: The Last Knight, although as Bay notes: he tested it first on a Victoria's Secret commercial.
Back in May, RED presented David Fincher with his own custom RED camera called "The Xenomorph" but that camera was just a Dragon camera is a custom body housing. Bay's Bayhem camera features custom RED features an 8K Super 35mm 3.65 micron sensor known by the moniker "Helium." It's smaller than the 8K VistaVision, able to squeeze 8K into a smaller Super 35mm chip which necessitates new smaller, denser, pixels. This is one of the cameras that Michael Bay is using to shoot Transformers: the Last Knight. While Bay was initially resistant to go from film to digital (he still in fact films shots using a 70mm film camera), the filmmaker has been known to push hard against the cutting edge of cinema technology in his movies.
Here are some close-up photos of the camera from RED Digital Cinema's CEO, Jarred Land and Chief Design Officer, Matthew Tremblay: