Chinese Audiences Are Getting Mad About 3D Gouging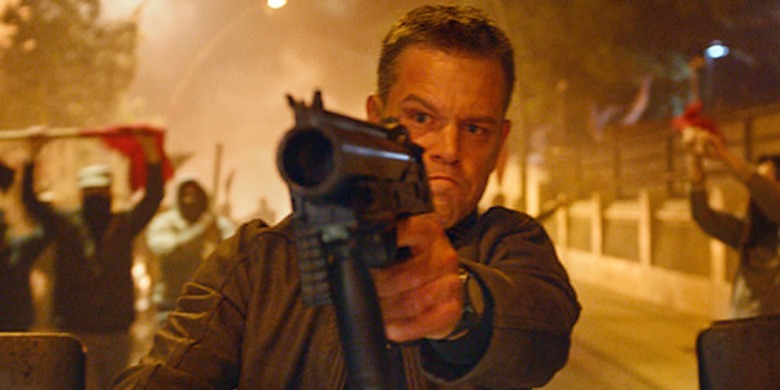 As the international box office and especially the Chinese box office becomes ever more important to Hollywood's bottom line, studios and filmmakers have been bending over backward to find ways to pump more money out of overseas audiences. That could mean moving a shoot's location or teaming with homegrown talents or companies; other times it might take the form of region-specific Easter eggs or additional scenes. And sometimes it's a matter of charging more for admission by cranking out a 3D conversion.
But that latter strategy can backfire, as Universal Pictures has now learned. Earlier this week the studio released Jason Bourne in 3D in China, and while initial figures were good, audiences are apparently none too pleased with the film. If you guessed that it's because 3D and shakycam make for a literally nauseating combination, congratulations, you're already one step ahead of the studio. 
Jason Bourne was shot entirely in 2D, and here in the U.S., it was only released in 2D. But Universal put together a special 3D version for select Asian markets including China, Hong Kong, India, the Philippines, and Vietnam. At first, all seemed well – Jason Bourne opened in China on Tuesday to a respectable $11.8 million. But public opinion soured on the 3D version of the film pretty quickly. According to Deadline, two film critics wrote that Jason Bourne in 3D made them dizzy.
General audiences aren't staying quiet about their displeasure either. China's state-run Global Times reports 30 people staged a protest in Beijing, demanding refunds for their tickets. "The 3D version is a rip-off. It's been happening many times in China and must be stopped," said organizer Zhou Yuchen.
For Chinese fans, what's especially irksome about the Jason Bourne 3D conversion is that it's difficult to find 2D screenings of the movie. In Beijing, 8 out of 149 theaters have the 2D version by The Beijing Times' count. And Global Times writes that just 9 of 174 theaters in Shanghai had 2D screenings, and that most of those were in inconvenient locations or scheduled for inconvenient times. One critic revealed to the paper that theaters capable of playing the 3D version were not given the option by distributors of playing the 2D version.
Most of the time, movies screened in 3D abroad also play in 3D in the U.S. But in a few instances, studios or distributors offer a 3D conversion to goose international ticket sales. Other films that got 2D releases in the States but 3D releases in select international territories include RoboCop, Noah, Transcendence, Lucy, The Hunger Games: Mockingjay (both parts), Taken 3, Furious 7, Maze Runner: The Scorch Trials, The Divergent Series: Allegiant, and The Huntsman: Winter's War (source: Wikipedia).
Avatar sparked a 3D craze in China, as it did in much of the rest of the world, and the film industry has been happy to oblige the demand for more 3D movies. Not only do 3D screenings let theaters charge more, thus driving up the gross, they're harder to pirate. But not every picture benefits from 3D, and Chinese audiences are understandably getting fed up with paying a premium for a poorer experience. Fortunately, the distributor is responding, at least in this case. Universal Pictures' China branch has since stated that they working to add more showings of Jason Bourne in 2D.