'Captain America: Civil War' Bloopers: Earth's Mightiest Heroes Flub Their Lines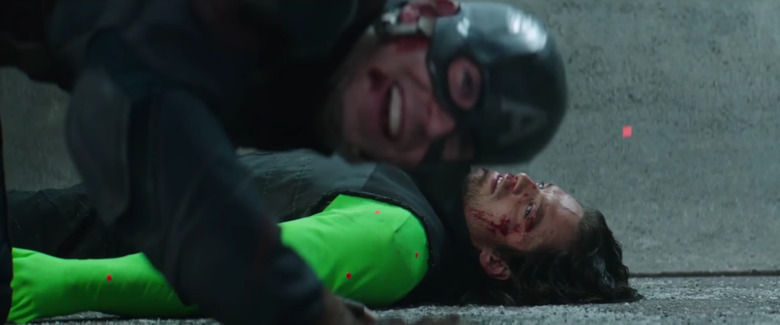 Captain America: Civil War was a somber affair, and understandably so — the film rocked the very notion of the Avengers to its very core by pitting hero against hero and friend against friend. It was downright heartbreaking to see Steve and Tony come to blows despite their own best efforts to reach a common ground, and then to see the rest of the Avengers forced to pick sides.
But behind the scenes, it was a whole other story. With the film's home video release just around the corner, Marvel Studios has released the Civil War blooper reel, and it's silly, endearing stuff. Captain America may be going through some heavy stuff, but Chris Evans is enjoying the hell out of himself, and Sebastian Stan smiles more in these few minutes than Bucky probably has in the past 70 years. Scarlett Johansson's tough action hero schtick gets undermined by faulty equipment, and Robert Downey Jr. just can't help getting in a snarky remark or two. Anthony Mackie, Jeremy Renner, Paul Bettany, Elizabeth Olsen, and Martin Freeman all make appearances as well.
Captain America: Civil War Bloopers
Marvel is second to none when it comes to casting. I won't claim to know what any of these stars are like personally, but they all project charisma. This just looks like a fun group to hang out with, and after so many years of working together these actors look like old friends. It's especially funny to see Falcon and Winter Soldier giggling together after Civil War made it crystal clear that they don't much care for each other. If watching your favorite heroes fight each other in Civil War bums you out, just remember what this movie really looked like behind the scenes.
Captain America: Civil War will be available on Digital HD starting September 2, and is out on DVD and Blu-ray September 13,.