'My Blind Brother' Trailer: Adam Scott, Nick Kroll, And Jenny Slate Get Caught Up In A Love Triangle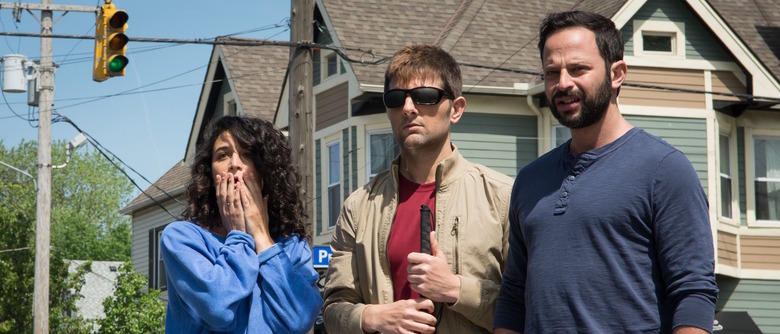 NBC's Parks and Recreation ended at the exact right time, but that doesn't mean we don't miss it now that it's gone. So if you're still in mourning, you may find some comfort in the new trailer for My Blind Brother. Sophie Goodhart's indie drama stars not one, not two, but three former Pawneeans caught in a love triangle. Nick Kroll, the former Douche, gets to play the nice guy this time, while Adam Scott steps up as the douchey one. The two guys play brothers after the same woman, played by Jenny Slate. Watch the My Blind Brother trailer after the jump.
Scott might be known best for playing the nicest guy ever on Parks and Recreation, but outside the show he's done a pretty good job of playing jerks in films like Sleeping With Other People, The Secret Life of Walter Mitty, and Step Brothers. Here he plays Robbie, who is a very specific kind of jerk: the golden boy kind that can apparently do no wrong, but is actually quite arrogant and self-absorbed. Robbie casts a long shadow over his brother Bill (Kroll), who helps Robbie get the glory but never gets to enjoy any himself. Their dynamic is threatened, however, when they both fall for Rose (Slate), who previously hooked up with Robbie but is now helping Bill train for a long-distance swim. Also starring is Zoe Kazan, who fills the requisite romcom role of Rose's best friend.
My Blind Brother drew some solid reviews at SXSW and Tribeca, and it's easy to see why. Kroll, Scott, and Slate make for an instantly charismatic trio, and the premise seems to offer them plenty of opportunity for awkward humor. This doesn't look laugh-out-loud funny, but it also doesn't look like it's necessarily trying to be — it's just fun to see sparks fly as these three bounce off of each other. I only hope Scott's character is a little less exaggerated than he looks in the trailer.My Blind Brother gets a limited release starting September 23.