'First Girl I Loved' Trailer: Two Girls Navigate Love And Identity In Sundance Coming-Of-Age Drama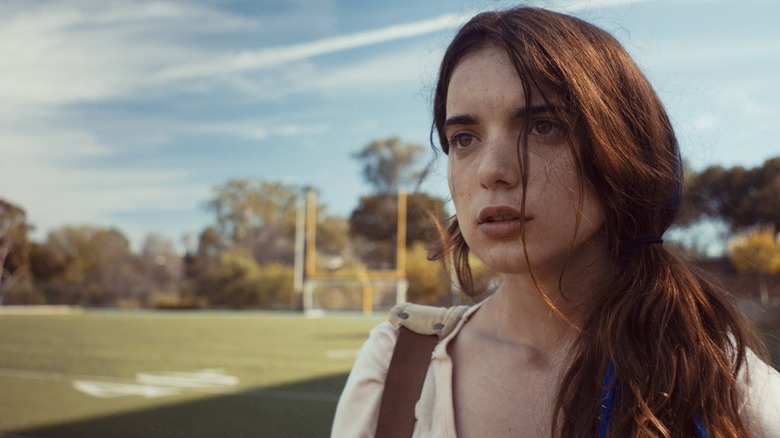 Most people got to known Brianna Hildebrand for the very first time through her scene-stealing performance as Negasonic Teenage Warhead in Deadpool. But if you were at this year's Sundance Film Festival, you might have seen her a bit earlier. Hildebrand hit the festival with First Girl I Loved, a tender coming-of-age drama directed by Kerem Sanga (The Young Kieslowski). Hildebrand and Dylan Gelula (best known as Xan on Unbreakable Kimmy Schmidt) play two high school classmates who fall in love, but find their relationship threatened by forces internal and external.
While I did catch the film at Sundance, I didn't have the opportunity to review this one myself, unfortunately. But pretty soon you'll be able to judge it for yourself as it's coming to theaters this fall. Check out the First Girl I Loved trailer below.
[via The Playlist]
Hildebrand's terrible fake hair aside (I assume she's sporting her Deadpool crop under there), First Girl I Loved works because it feels naturalistic and sincere. Gelula puts in an engaging, lived-in performance as Anne, and Sanga is patient enough to let the two girls build up a romance that feels earned. Less interesting are the outside machinations that conspire to keep Anne and Sasha apart, like Anne's BFF Clifton (Mateo Arias). Overall, it's an engaging drama that should hit the spot if you're in the mood for something a bit bittersweet.
First Girl I Loved will be in theaters and on demand October 18. Pamela Adlon also stars, as Anne's mom.
Winner of the Best of NEXT Audience Award at the 2016 Sundance Film Festival, First Girl I Loved is a poignant coming-of-age

tale that captures all the anxiety, bravery, and heartbreak of first love.
On assignment for her high-school yearbook, social-misfit Anne (Dylan Gelula) charmingly hits it off with the beautiful star of the softball team, Sasha (Brianna Hildebrand). But when Anne tells her best friend Clifton (Mateo Arias) about her new crush, he reveals a hidden jealousy that threatens more than just the girls' budding romance.
Writer/director Kerem Sanga tells this remarkably touching story with a multifaceted style that is as fresh as it is daring. Brimming with authenticity and humor, First Girl I Loved offers a delightful, contemporary perspective on the jitters of new romance and the age-old heartbreak of love.