'Planetarium' Trailer: Natalie Portman And Lily-Rose Depp Make Their Way Through 1930s Paris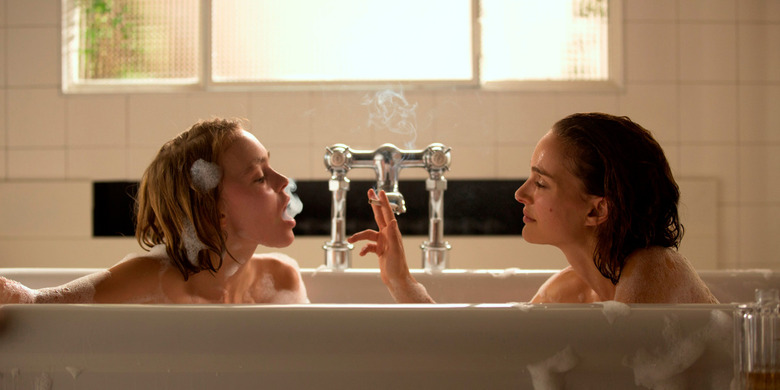 Natalie Portman has had a busy 2016, starring in Jane Got a Gun and Knight of Cups, as well as her own directorial debut A Tale of Love and Darkness. And she's still not done. Next month she has two films debuting at both Venice and Toronto. One is Jackie, the First Lady biopic from Pablo Larraín. The other is Planetarium, an intriguing drama directed by Rebecca Zlotowski (Grand Central).
The latter stars Portman and Lily-Rose Depp (Yoga Hosers) as two American sisters with an unusual gift. The ladies make their way through 1930s Paris and catch the attention of a filmmaker (Emmanuel Salinger) mounting an ambitious new movie. Watch the Planetarium trailer below. 
Since this is a French Planetarium trailer, the English dialogue is subtitled but the French dialogue is not. Still, you can probably get a pretty good idea of the overall vibe of this film:
The Planetarium trailer is somewhat mysterious, at least if you don't understand French (which I do not.) All that's clear is that Portman and Depp are playing sisters who get caught up in a dramatic, dangerous something-or-other in France. So here's a more in-depth description from the TIFF catalog to help you out:
The setting is Paris in the 1930s, where two sisters, American spiritualists Laura (Portman, who also appears at this year's Festival in Jackie) and Kate Barlow (Depp), are winding up a world tour. Seemingly adept at communicating with the dead, the women are somewhat less experienced with the business of the living. Nevertheless, their astonishing exhibit of apparently supernatural powers piques the interest of powerful French film producer André Korben (Emmanuel Salinger), who retains their strange talents for his wildly ambitious new film project. Laura and Kate are soon swept up in a scheme that, fusing art and the occult, portends a dark shadow soon to be cast over all of Europe.
The TIFF description teases an "alluring dark side" to Portman's performance, which should interest fans of her work in Black Swan. But we're equally curious about Depp, who has her first-ever leading role in this fall's Yoga Hosers. Our own Peter Sciretta was quite impressed with her when he caught the film at Sundance, remarking that she "has the makings of a star." Depp has since also appeared in The Dancer, a French biopic which played at Cannes this summer.
Planetarium will have its world premiere at Venice then play at TIFF.