'The Guardians' Trailer: Russia's Avengers-Style Superhero Movie Looks Crazy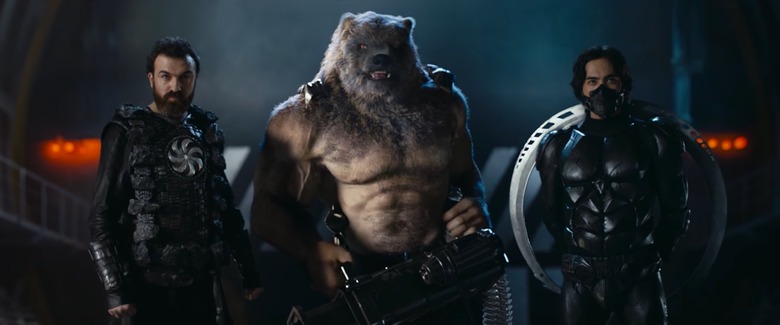 The Guardians (foreign title "Zaschitniki") is Russia's attempt at a Marvel Avengers-style superhero blockbuster. Directed by Armenian director Sarik Andreasyan and starring Sebastien Sisak, Anton Pampuchniy, Sanzhar Madiev, Alina Lanina, Valeria Shkirando and Stanislav Shirin, the story follows a secret group of Soviet superheroes named "Patriot" created during the Cold War to defend the homeland from supernatural threats. The team is comprised of representatives of the different nationalities of the Soviet Union. But really all you need to know is the movie features a bear-man shooting a huge Gatling gun. Watch The Guardians trailer now after the jump to see what Russia's big superhero team-up blockbuster looks like.
The Guardians Trailer
Pretty insane right? I definitely get an Avengers: Age Of Ultron tone from the trailer, but it seems like the film aspires to be a crazy Russian action movie take on a comic like Watchmen. The visual effects and production value look big, especially for the budget. The Guardians has a reported budget of 330 million Russian Rubble, which is the equivalent of about $5 million, but I'm sure you'll agree that watching the trailer it looks like it cost a lot more. The filmmaker Sarik Andreasyan is probably best known in the US as the director of the movie American Heist, which starred Adrien Brody and Hayden Christensen.
The Guardians won't hit theaters until February 23rd, 2017 but they've already announced development on a sequel. China is looking to increase the amount of films imported from other countries, and Chinese distributor Turbo Films has teamed with Russian production company Enjoy Movies to not only release this movie but co-produce the sequel. The film will take one of China's 34 annual import spots. The Guardians is the second Russian film to fit into the quota, following the 2013 action film Stalingrad.