'The Disappointments Room' Trailer: Kate Beckinsale Unlocks A Room Full Of Horrors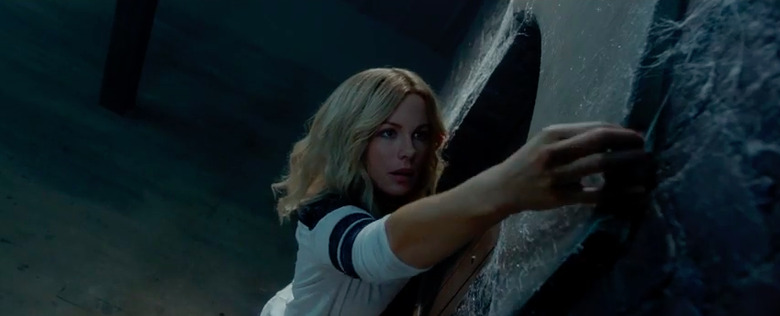 The Disappointments Room was one of the movies impacted by Relativity's bankruptcy. D.J. Caruso's horror film hasn't been delayed as long as Before I Wake (watch that trailer here), but it started shooting back in 2014, and it was originally scheduled to come out earlier this year. Relativity will release the movie, which stars Kate Beckinsale, in limited release next month, on the same date they had last scheduled Before I Wake.
Below, watch The Disappointments Room trailer.
In Caruso's latest effort, when Dana (Beckinsale) and her 5-year-old son (Duncan Joiner) move into their new home, she discovers a hidden room in the attic. What's in the room is mostly kept a secret in the trailer, although there's a line or two in the trailer that maybe hints at what to expect. The film co-stars Gerald McRaney (House of Cards) and Lucas Till (X-Men: First Class).
Here is The Disappointments Room trailer (Source: Yahoo! Movies):
The Disappointments Room is written by Prison Break and Legends of Tomorrow star Wentworth Miller. His first screenwriting credit was Park Chan-wook's Stoker. That story is a little muddled, thematically, but it shows that Miller has real talent as a writer. He wrote some tense, sometimes emotionally horrific sequences that Park and that cast brought to life beautifully.
Whether we'll have similar praise for what D.J. Caruso does with Miller's script for The Disappointments Room, we'll have to wait and see, but the trailer isn't particularly promising. The scares shown aren't very effective, and one line appears to telegraph too much (although maybe it's misdirection). The mystery itself, though, is somewhat alluring.
D.J. Caruso has another movie coming out early next year. He's currently working on xXx: Return of Xander Cage, a sequel we recently saw a trailer for. His last few films – Standing Up, I Am Number Four, and Eagle Eye – didn't reach Disturbia's level of critical and financial success. Standing Up was a smaller film, so that's expected, but still, his films haven't connected with an audience in a while. He did, however, direct The Salton Sea — a grimy thriller with a strong Val Kilmer performance — which has gained a few more fans since its release.
Here's the official synopsis:
The psychological thriller follows a woman (Beckinsale) who moves into a new house with her 5-year-old son only to discover a secret room within the attic where unimaginable horrors are accidentally unlocked.
The Disappointments Room opens in limited release and on VOD on September 9th.