Video: How Thor Ruined John Krasinski's Captain America Chances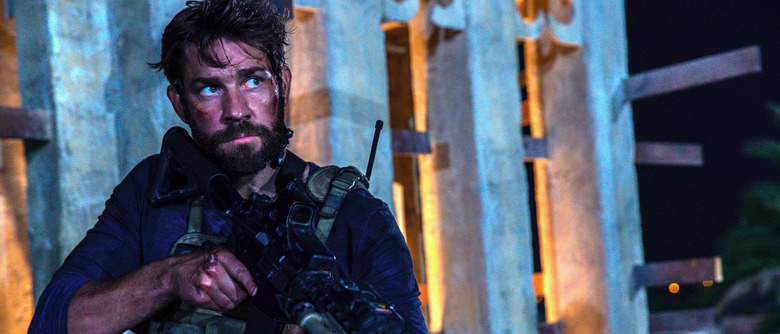 Way back in 2010, there were reports John Krasinski was the frontrunner to play Captain America. That casting didn't pan out, obviously; Chris Evans has been the Captain America we know and love for three Cap movies and two Avengers films now. But until now, we never knew quite why. During a recent appearance on Conan, Krasinski playfully blamed Marvel star Chris Hemsworth — or more accurately, the incredibly fit body of Marvel star Chris Hemsworth — for losing him the part. 
Krasinski confirmed he'd done a screen test to play Captain America. "When they asked me to test, they actually allowed me to put on the suit, I was on a set, it was all very interesting," he said.
But I remember, the only bummer of it was, I was putting on the suit, just watching it, I was like, this is so amazing. And I got about right to my waist, I was still shirtless, feeling pretty good about myself. Wasn't 13 Hours yet, but I felt pretty good. And all of a sudden Chris Hemsworth walked by as Thor, and he's like, 'Hey, mate.' And I went, I'm good, this is stupid. It's okay. I'm not Captain America. It's fine.
It's hard to tell how much of this story is embellished, but the timing theoretically checks out: Krasinski's screen test would have been around late 2009 or early 2010, and Thor began shooting in January 2010. And the rest of it makes sense, too. What mortal human wouldn't be intimidated by Hemsworth's Thor muscles?
At the time that Krasinski was rumored for the role, he struck many fans as an odd choice. He was (and still is) best known for playing snarky Jim Halpert on The Office, a character who's miles away from the earnest Captain America. But his fine work in 13 Hours showed he can do the serious action hero thing, and he'll get another chance to demonstrate his chops when Amazon TV's Jack Ryan debuts.
Until then, enjoy this video of Krasinski telling the story. It's way better than reading the transcription: