John Krasinksi's 'Jack Ryan' Series At Amazon Will Take On ISIS With A Movie-Sized Budget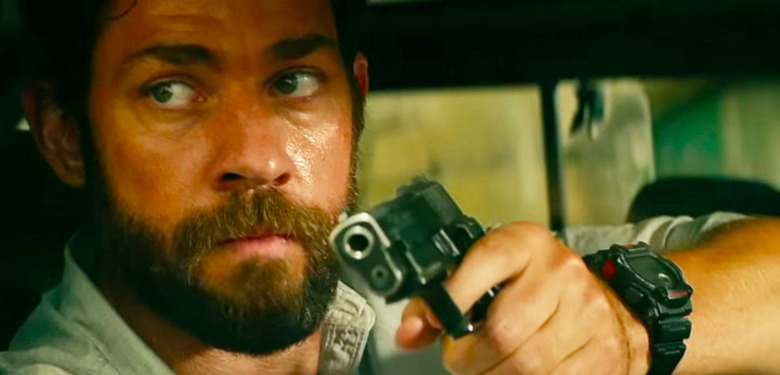 Just last week, Amazon gave a full series order to Tom Clancy's Jack Ryan, a new series focusing on the recurring CIA analyst character who has been played by the likes of Harrison Ford, Alec Baldwin, Ben Affleck and Chris Pine on the big screen. This time it will be The Office and 13 Hours star John Krasinski in the lead role as he is thrust into a dangerous field assignment for the first time.
All we previously knew about the show's story was that it would see Jack Ryan uncovering a pattern in terrorist communication that launches him into the center of a dangerous gambit with a new breed of terrorism that threatens destruction on a global scale. But now John Krasinski has revealed some more details about the show, including where inspiration for the story will come from and just what kind of series we're looking at in terms of scale.
Find out more about the Jack Ryan TV series plot after the jump.
Speaking with Collider, Krasinski says that Tom Clancy's Jack Ryan will be along the lines of a 10-hour movie, and they're bringing a movie-sized budget to the table too apparently:
We're doing 10 episodes and I think the interesting part about it is exactly what you said, everything's changed so much; the line between film and TV has blurred so much over the years, I think Jack Ryan is a product of that blurring so much that I think that they're not even really considering it a TV show, they're calling it a movie that's being told in 10 parts; and that's not just an argument of semantics, it's actually true. Carlton Cuse's whole plan is we're gonna shoot it on a movie budget, we're gonna have the same stunts as movies, it's gonna feel like a movie but you're gonna watch it every week. His whole idea was he just felt that two hours wasn't enough time to tell a Jack Ryan story because Tom Clancy's books are so detailed and rich, and the character of Jack Ryan if he has a superpower is his intelligence, so there's a lot of problem solving and things that take time, and that's the beauty of the spy genre.
A 10-hour movie sounds exhausting, but broken up like a TV series will make it easier to digest. Plus, you don't want to short-change the story when you're going after as big of a terrorist threat as something like ISIS. The real life terrorist cell will be at the center of the series at least for this first season, but that won't always be the case. Krasinski says:
Every year they're gonna be different. They're sort of more ripped-from-the-headlines type stuff, so the first year the villain or I don't know what you want to call it is it's taking on ISIS for sure.
Hopefully Tom Clancy's Jack Ryan comes through stronger than Jack Ryan: Shadow Recruit so we get a chance to see this iteration of the character fleshed out and take on more missions. If that happens, Krasinski would also be interested in getting behind the camera and direct an episode here and there. After all, he's a certified director now after being at the helm of his first feature film, The Hollars, a family drama that we loved at Sundance and is coming to limited theaters starting this weekend. You can watch the trailer for The Hollars right here, and stay tuned to find out what else we learn about Tom Clancy's Jack Ryan.