'Blair Witch' TV Spot: Yep, Those Woods Are Still Creepy As Hell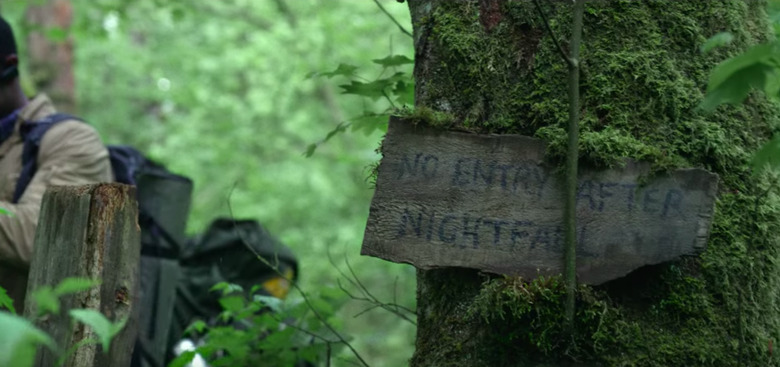 In one sense, we've been waiting for a new Blair Witch Project sequel for over a decade. The original film came out 17 years ago, and the much-reviled sequel was released 16 years ago. But really, we've only known we were waiting for the past few weeks. It wasn't until last month we even realized another Blair Witch Project movie was happening, when Lionsgate revealed at Comic-Con that Adam Wingard's The Woods was actually titled Blair Witch.
Now we've only got a few more weeks to wait until the movie's actual release, which means it's time for Lionsgate to kick their marketing campaign up to the next level. The first Blair Witch TV spot has been revealed, and you can watch it after the jump. 
The new Blair Witch picks up in the year 2014, with James Allen McCune playing the brother of Heather Donahue's character from the original movie. He's determined to get to the bottom of what really happened to his sister, so he sets out with a group of friends to visit her last known whereabouts: the Black Hills Forest. This being a Blair Witch movie, they bring a bunch of cameras along. And needless to say, things go south pretty quickly.
The overuse of "found footage" since Blair Witch and the disappointment of the 2000 Blair Witch sequel may have scuffed up the original's reputation a bit, but if anyone can get this franchise back on track it might be Wingard and screenwriter Simon Barrett. They've been behind some of the most talked-about horror films of the past several years, including You're Next and The Guest. Here's hoping they can work that dark magic again on Blair Witch.
Blair Witch arrives in theaters September 16.
A group of college students venture into the Black Hills Forest in Maryland to uncover the mysteries surrounding the disappearance of James' sister who many believe is connected to the legend of the Blair Witch. At first the group is hopeful, especially when a pair of locals offer to act as guides through the dark and winding woods, but as the endless night wears on, the group is visited by a menacing presence. Slowly, they begin to realize the legend is all too real and more sinister than they could have imagined.