Exclusive: New 'Klown Forever' Clip Teases One Of 2016's Most Offensive Comedies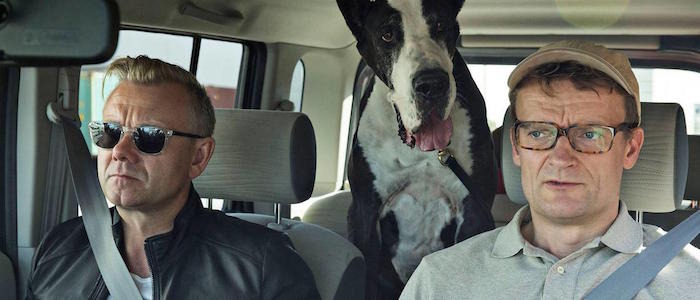 I've previously written about how much I enjoyed Klown Forever, the very good and very funny follow-up to 2010's Klown (which just so happens to be one of the funniest and most offensive movies ever made).  Now, we're pleased to premiere this new clip from director Mikkel Nørgaard's sequel, which is set to arrive in limited theatrical release and on VOD next month from Drafthouse Films.
Klown Forever picks up several years after the (humiliating, shocking, brain-damaging) events of the first film, with best friends and comedians Casper Christensen and Frank Hvam (playing truly despicable versions of themselves) traveling to the United States and finding new and awful ways to make you cringe. If you don't have to watch these movies through your fingers, you are a tougher soul than me. Like its predecessor, this deeply offensive film spares no one, and goes out of its way to make sure you are as uncomfortable as possible for as long as possible. I want to give it a hug.
Like the trailer for the film, I think the jokes in the clip play better in the context of the movie. Still, there's plenty to enjoy here. The gag about Frank thinking he's been scalped as some kind of twisted revenge scheme is pretty good – the throwaway line from Casper about being angry now that Frank has to wear a hat to his party leaves me in stitches.
Klown Forever is set to arrive in theaters and on VOD on September 2, 2016. Although it will play well at home, I highly recommend seeking it out in theaters if you have the opportunity. It demands to be seen with a crowd.
Here's the official synopsis for the film:
Klown Forever follows estranged best friends Casper Christensen and Frank Hvam as they travel to the States seeking fame, fortune and friendship, only to immediately dive head-first into an impressive array of wildly inappropriate misadventures and unforgettably mortifying social situations.
When Casper attempts to break into Hollywood, Frank follows him to Los Angeles, seeing an opportunity to salvage their strained relationship. As the guys come face-to-face with a number of LA's denizens—including Isla Fisher, Adam Levine and "Game of Thrones'" star Nikolaj Coster-Waldau—it's clear that they're equally ready and willing to take on Hollywood...but is Hollywood prepared for Casper and Frank?
A reunion with Klown director Mikkel Nørgaard, Klown Forever sees the series, best described as "Curb Your Enthusiasm" as directed by Lars von Trier, reach ingenious new heights––and stoop to gut-wrenchingly hilarious lows.