'Thor: Ragnarok' Set Photos Give A First Look At Odin As We've Never Seen Him Before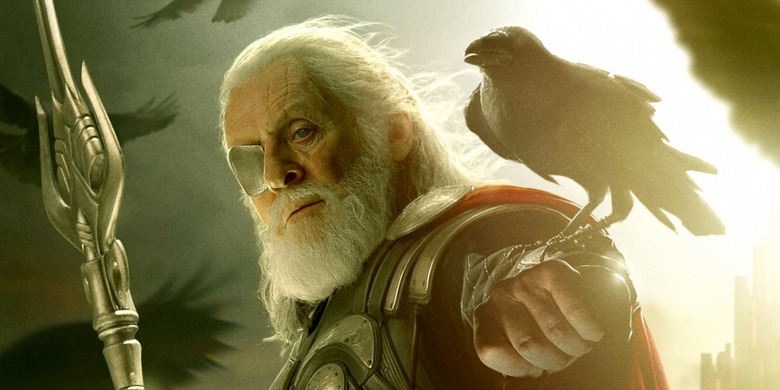 Production on Thor: Ragnarok is well underway, and as we saw yesterday thanks to photos from director Taika Waititi and star Chris Hemsworth, right now shooting is taking place outdoor with parts of Brisbane, Australia doubling as New York City. Photos from the set yesterday revealed Thor (Hemsworth) and Loki (Tom Hiddleston) had returned to Earth, but we didn't know what they were doing besides looking devilishly handsome. Thanks to some new set photos, we may have an answer.
See the new Thor Ragnarok set photos after the jump.
You might remember that at the end of Thor: The Dark World, the God of Thunder returned to Asgard. In the throne room with his father Odin (Sir Anthony Hopkins), he is given the chance to finally rule Asgard as king, but Thor turns down the opportunity by saying "I'd rather be a good man than a great king." Odin lets his son go to live his life, but as Thor leaves the throne room, we see Odin transform into Loki, showing that Thor's mischievous brother has survived and has somehow dispatched with Odin. But where has Asgard's king gone?
Well, one of the new Thor Ragnarok set photos may give us an answer:
#AnthonyHopkins #filming #Thor in #Brisbane, #Australia. #photojournalism #AustralianPhotographer #BrisbanePhotographer #paparazzi !! ©Glenn Hunt/Fairfax Media
A photo posted by Glenn Hunt (@glennhuntphoto) on
The photo comes from photographer Glenn Hunt, and as you can see, that's Anthony Hopkins hamming it up for those in attendance trying to snap a shot of the actors on set that day. However, Hopkins isn't wearing his kingly armor, and instead looks like he's been living like a bum. Combine this revelation with the fact that Thor and Loki are in New York City, and it seems as if the two brothers have teamed up to track down their father, who was likely banished to exile on Earth by Loki.
We know that some kind of major threat is coming to Asgard, which is probably why Thor and Loki are again working together. More than likely they're going to need the wisdom and experience of their father to effectively face whatever is about to come their way. Plus, I'm sure that at some point Thor figures out that Loki has been impersonating their father this whole time, and he's probably not going to be too happy about that.
If you want to see more photos of Anthony Hopkins on set, head to ComingSoon.net. Otherwise, stay tuned to find out what other interesting details we learn about Thor: Ragnarok as production continues.