'Stranger Things' Concept Art Suggests Things Could've Been Way Worse For Barb; Plus: What's Up With That Egg?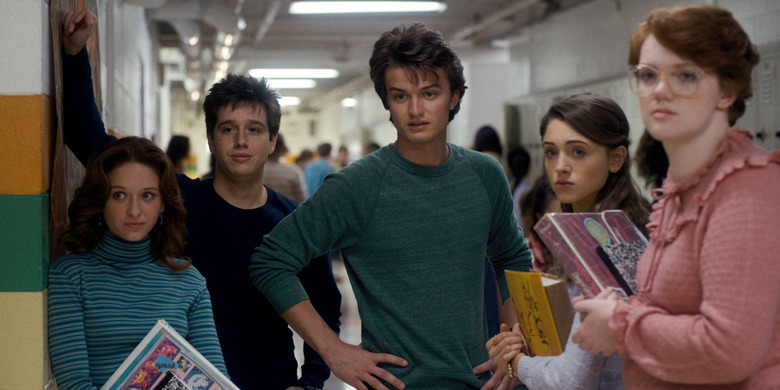 Barb (Shannon Purser) had a rough enough time in Stranger Things season one that creators Matt and Ross Duffer have gone out of their way to promise "justice for Barb" in season two (well, should the show get a season two). But apparently, things could have turned out even worse for the fan-favorite character. Artist
Artist Aaron Sims has shared some intriguing pieces of Stranger Things concept art, which among other things reveal an alternate fate for beloved Barb. Sims also finally explains explain what's up with that egg. You know the one. Warning: MAJOR SPOILERS ahead for Stranger Things season one. 
The second episode of Stranger Things showed Barb accompanying her BFF Nancy (Natalia Dyer) to a little get-together hosted by Steve (Joe Keery). Barb's already having an awkward time at the party and her night goes from bad to worse when she's snatched by the Demogorgon. The next episode opens with her trying and failing to get out of the monster's reaches, and her ultimate fate is finally shown at the end of the season, when Eleven (Millie Bobby Brown) ventures into the Upside Down. Remember this nightmare-inducing image?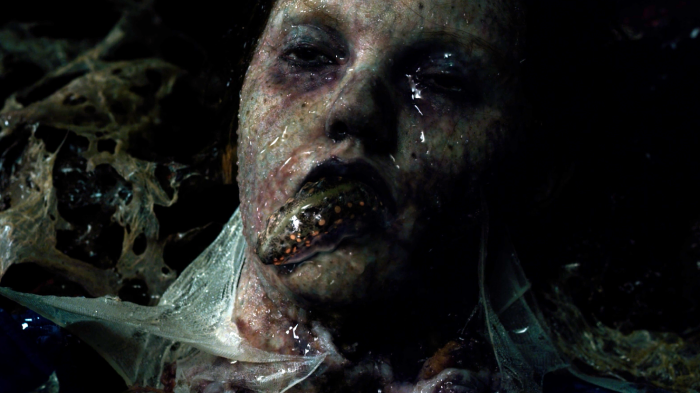 Until that moment, fans held out a sliver of hope that Barb had somehow survived. But nope. She's clearly met her end, and a pretty grisly one at that. However, Sims told Screen Crush that Barb's death originally looked even more horrifying:
Based on our original discussion with the Duffers on this design, we wanted to go really graphic with it to highlight the horrific aspects of Barb being eaten, and something then growing on top of her — thus, the ribs poking out of her stomach in the first shot.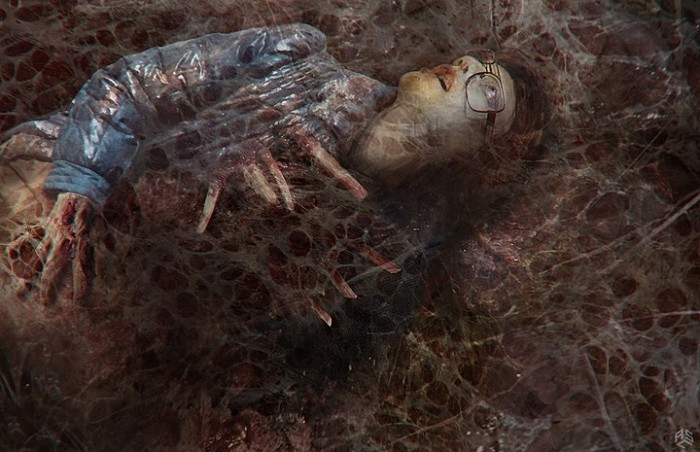 The artists apparently also toyed with having a spider crawl out of Barb's mouth. Instead, we wound up with a slug, which is not really less horrifying. Ultimately, though, Sims said the Duffers had to tone down the disgusting stuff so audiences could actually tell what was going on.
In the final design, they ended up veering away from that because it became too unrecognizable. It was difficult to tell exactly what had happened to her; it wasn't an issue of it being too graphic, but rather, that the viewer needed to see something that was very recognizably dead.
And Barb is indeed dead. Although some viewers have wondered if Barb could make a miraculous return — this is science-fiction, after all — Matt Duffer dismissed that possibility. "I can't see it happening," he said. Instead, "justice for Barb" means the show will finally see the characters reckon with her disappearance, after season one put her on the back burner to focus on the vanishing of Will Byers. "[P]art of what we want to do with hypothetical Season 2 is to explore the repercussions of everything that happened," explained Duffer.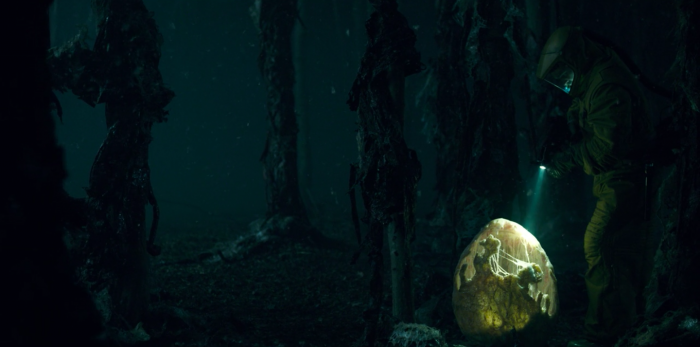 Sims also answered one question fans have had since seeing the finale. When Hopper (David Harbour) ventures into the Upside Down, he comes across a weird egg-shaped something. It's unclear what exactly it is, and it seems to come out of nowhere. But Sims revealed that's not quite the case:
The egg was a design for something you actually see a couple times in the show, whether you recognize it or not. There are a couple encounters where we see the Demogorgon hunkered over, eating something – when Nancy goes into the Upside-Down through the tree, and when Eleven finds the creature in her "vision", it's hunkered over this egg, feeding off of it.
It's not clear whether or not this is the creature's offspring – we don't even know if it's the same species. The only info we have is that the creature is feeding off this egg somehow.
So there you go — it may or may not be the Demogorgon's spawn, but it's definitely the Demogorgon's snack. Talk about creepy.
For more from Sims, including plenty of other Stranger Things concept art, click on over to Screen Crush for the full report.