'You're The Worst' Season 3 Trailer: Now With More Samira Wiley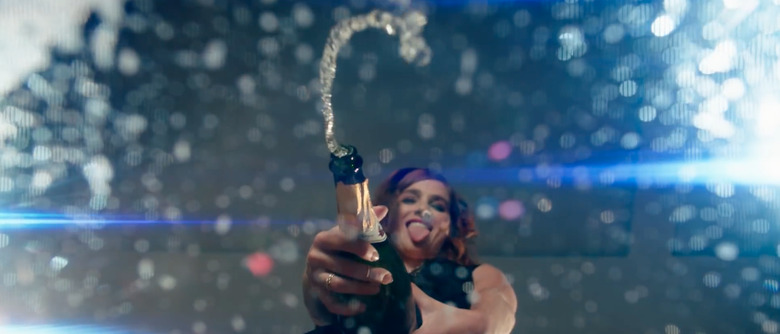 This summer may have been kind of a stinker movie-wise, but TV-wise there's been a lot to love. Just in the past few weeks we've been obsessing over HBO's The Night Of and USA's Mr. Robot, sampling Netflix's The Get Down and catching upon their Stranger Things and BoJack Horseman. And next week brings the season 3 premiere of FXX's You're the Worst, to close out the summer and carry us into fall.
When You're the Worst first premiered in 2014, it looked like another caustic hangout sitcom a la It's Always Sunny. But it quickly revealed itself to be something richer and more surprising, honestly grappling with serious material like PTSD and depression without losing its twisted sense of humor. Season 3 promises to pick off right where season 2 left off, which is to say with our four deeply imperfect heroes as hilariously lost as ever. Oh, and it also brings in some promising new characters like Justina, a therapist played by Orange Is the New Black's Samira Wiley. Watch the You're the Worst season 3 trailer below. 
This show gets a lot of well-earned praise for being "real," but I've never related to it more than in that trailer scene where Jimmy drops his phone on Gretchen's face.
After a very dark season 2, things seem to be looking up slightly for Gretchen (Aya Cash) and Jimmy (Chris Geere) as she pursues treatment for her clinical depression. The same cannot be said of their friends. Lindsay (Kether Donohue) spent much of last season extricating herself from an unhappy marriage with Paul (Allan McLeod)... only to end up right back with him when she gets pregnant. It looks like she's starting to regret that choice already. And Edgar (Desmin Borges) looks like he'll be hitting a rough patch, probably related to his ongoing struggle with PTSD.
You're the Worst season 3 kicks off August 31.
You're the Worst is an original, critically-acclaimed comedy series from Stephen Falk that takes a modern look at love and happiness told through the eyes of two people who haven't been very successful with either. It's the story of Gretchen and Jimmy; two lost souls who experience fear, heartbreak, romance, sex, food, Sunday Funday, and friendship in Los Angeles only to find that sometimes the worst people make the best partners.
The narcissistic, brash, and self-destructive "Jimmy Shive-Overly" (Chris Geere) thinks all relationships are doomed. The cynical, people-pleasing, and stubborn "Gretchen Culter" (Aya Cash) knows that relationships aren't for her. After a whirlwind courtship, and a very rough post-cohabitation period of dealing with Gretchen's clinical depression, Jimmy and Gretchen try to keep the good times rolling while confronting the terrifying fact that relationships grow and deepen even if the two individuals don't. For Jimmy and Gretchen, the f-word is "family."
Rounding out the cast is Desmin Borges who plays "Edgar Quintero," Jimmy's once homeless war veteran roommate who is struggling to manage his PTSD while forging a post-combat life. Kether Donohue plays "Lindsay Jillian," Gretchen's best friend and former partner in crime who's exploring her identity after her loveless marriage was resurrected by a surprise pregnancy.