'Thor: Ragnarok' Set Photos Tease A Possible 'Doctor Strange' Connection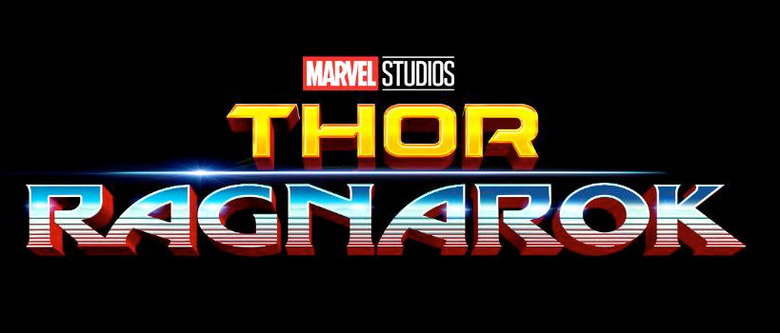 Thor: Ragnarok has been shooting in Australia for several weeks now, and while we've got a while to go before we see the movie itself, director Taika Waititi and his stars have been pretty generous about sharing glimpses of the shoot. Today, a couple of new photos tease Thor's return to Earth... and possibly an encounter with the next new Marvel superhero, Doctor Strange. 
First, Waititi blew everyone's minds with the reveal that Chris Hemsworth will appear in Thor: Ragnarok.
Spoiler... @chrishemsworth will be appearing in Thor: Ragnarok. Sorry. pic.twitter.com/F5TjjIUTxs

— Taika Waititi (@TaikaWaititi) August 22, 2016
Then Hemsworth himself shared a photo of himself and Loki on set.
Just sellin papers with my mate @twhiddleston #PartTimeJob #ThorRagnarok @TaikaWaititi pic.twitter.com/QdxgPRFQiw

— Chris Hemsworth (@chrishemsworth) August 22, 2016
In addition to the unsettling realization that Loki looks like, as our friend Courtney Enlow at Pajiba put it, "sexy Tommy Wiseau," there are some interesting little tidbits to be gleaned here. For starters, despite shooting in Brisbane, Australia, this scene is obviously set in New York — the prop newspapers behind him have New York-themed titles like Big Apple News, Lady Liberty News, and Sleepless City News.
And for those hoping Thor: Ragnarok will showcase some of Waititi's humor, a closer look at The Colonial Post's "Hammer Attack" story shows McThor (via), the Thor / Ronald McDonald cosplayer that charmed New York Comic-Con last year.
But an even more exciting detail emerges in these photos from Daley Pearson, whom you may remember as Thor's Connect Four-playing roommate.
Here's a few photos from the set of #Thor in #Brisbane today. Trying to keep it #Loki 🔨 ⚡️ pic.twitter.com/8NATpA9JQ2

— Daley Pearson (@Daley_Pearson) August 22, 2016
In one of Pearson's photos, Thor is holding a business card that reads "177A Bleecker St" — with no city, state, or zip code because as everyone knows, we New Yorkers are convinced that we are at the center of the universe. Diehard Marvel fans will recognize this as the address of Doctor Strange's Sanctum Sanctorum. It's unclear whether Strange himself will actually appear in Thor: Ragnarok, or if this is just a cute little Easter egg, but either way it's a reminder that everything in the Marvel universe is connected.
As entertaining as these (apparently) New York-set scenes look, they'll comprise only a small portion of Thor: Ragnarok. Kevin Feige has said that "only a couple of scenes" of Thor: Ragnarok take place on Earth, while "80 to 90 percent takes place in the cosmos." In addition to Hemsworth's Thor and Hiddleston's Loki, the film also stars Mark Ruffalo as Hulk, Tessa Thompson as Valkyrie, Cate Blanchett as Hela, Karl Urban as Skurge, Jeff Goldblum as Grandmaster, Idris Elba as Heimdall, and Anthony Hopkins as Odin.
Thor: Ragnarok arrives November 3, 2017.