It's Showtime: A 'Beetlejuice' Musical Is Coming To Broadway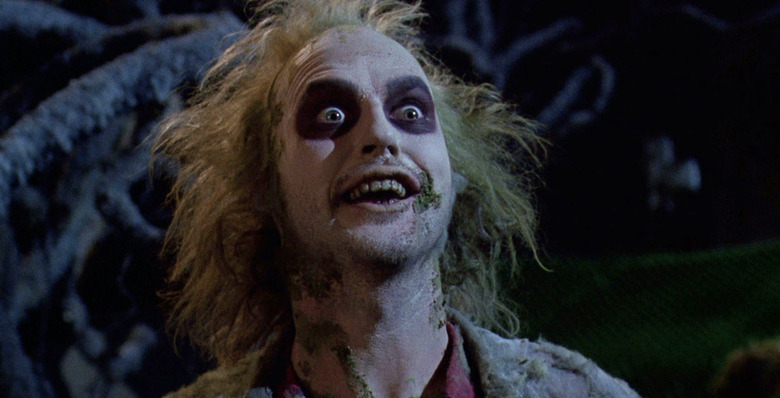 If the Alamo Drafthouse's upcoming celebration of Tim Burton next month, appropriately called Septemburton, wasn't enough gothic circus fun for you folks, then we have some good news. Beetlejuice will be getting the musical treatment on Broadway.
Find out what we know about the Beetlejuice musical after the jump.
Warner Bros. is working with musical director Alex Timbers (Rocky: The Muiscal, Bloody Bloody Andrew Jackson, Peter and the Starcatcher) to bring Tim Burton's horror comedy Beetlejuice to Broadway for the 2018-2019 season. The news comes from a New York Post article talking about what Alex Timbers has on tap after being replaced as the director of Disney's Frozen musical currently in the works.
What's a little worrisome is that Timbers was reportedly removed from Frozen because the size of the production overwhelmed him. But working on a musical adaptation of one of the most beloved animated films in recent memory, with a soundtrack known around the world, that can be daunting for anyone. Plus, it's not as if Timbers hasn't successfully navigated praiseworthy musicals before as evidenced by his career up until now.
As for the Beetlejuice musical, details are sparse on the production for now, but it's also early days on the project since it'll be two or three years before it hits the stage. Considering the visual style and production design of Beetlejuice, there should be plenty of great numbers and set pieces that can be crafted for a Broadway show. Surely even the saying of the name "Betelgeuse" will be said three times in a row in sing-song. Plus, there's a musical sequence built right into the movie itself already, and it's one of the most famous of all time:
The Beetlejuice musical may be a long way off, but you can still get some Tim Burton fun in your life if you're in New York City. There's a Tim Burton-themed bar called Beetle House open in the city, though some reporters from The Verge didn't have as good of a time there as you would hope.
If that doesn't sound like it's your speed, Beetlejuice is definitely part of the Alamo Drafthouse's Septemburton screening series, so if you've never seen the movie on the big screen, now is your chance. You can even get your hands on an enamel pin of The Handbook for the Recently Deceased. Head here for more details and links to buy tickets to Beetlejuice and the other Tim Burton movies on the docket.