Rogue One Bits: New Toys Revealed And Reviewed, 'Rogue One' VR Game, And A 'Star Wars' Fan's Dying Wish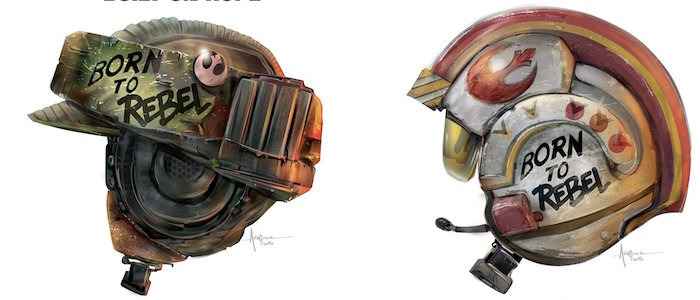 We may receive a commission on purchases made from links.
In this edition of Rogue One Bits:
Two very cool posters from artist Orlando Arocena.
A look at the new U-Wing toy (as well as a fan-made version).
Empire Magazine reveals two new Rogue One: A Star Wars Story covers.
A dying fan campaigns to see Rogue One early.
Detailed video reviews of the Rogue One "Black Series" action figures arrive online.
The marketing deluge for Rogue One gets underway with a series of new deals.
The Star Wars Battlefront VR mission will be set during Rogue One.
Take a first look at a series of new Rogue One books.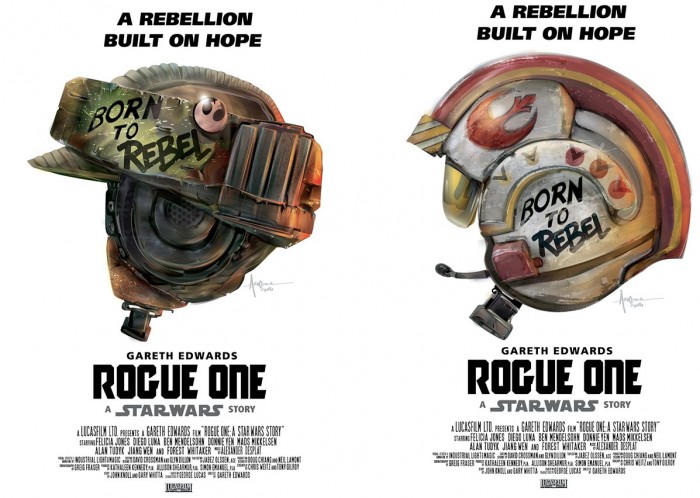 Let's kick things off with these very cool fan-made posters from artist Orlando Arocena, who decided to mash up Rogue One: A Star Wars Story with Stanley Kubrick's classic Vietnam War drama Full Metal Jacket. Here is Arocena explaining why he decided to take Philip Castle's iconic poster and give it a Star Wars twist:
Back in 2015 I was excited to hear the news about a potential Star Wars Rogue One story being developed, and directed by Gareth Edwards . I was very happy to read how the story would be more set within a military, covert ops thematic.  A year later and after a few trailers. I'm back to pay tribute with a parody.  I decided to pay reverence to one of my favorite wartime movies, Stanley Kubrick's, Full Metal Jacket and the artist who created that films iconic artwork, Philip Castle, by visually combining the intensity and fighting spirit of the Rebellion in a new vector tribute.
You can take a detailed look at his process right over here.
We've only seen brief glimpses of the U-Wing, the newest Rebel ship being introduced to in Rogue One, but that didn't stop artist aaskedall from creating a physical model. We still don't know much about the U-Wing beyond the fact that it is a slightly larger ship that is used to transport troops and drop them into battle. You can check out a full gallery of aaskedall's work over here.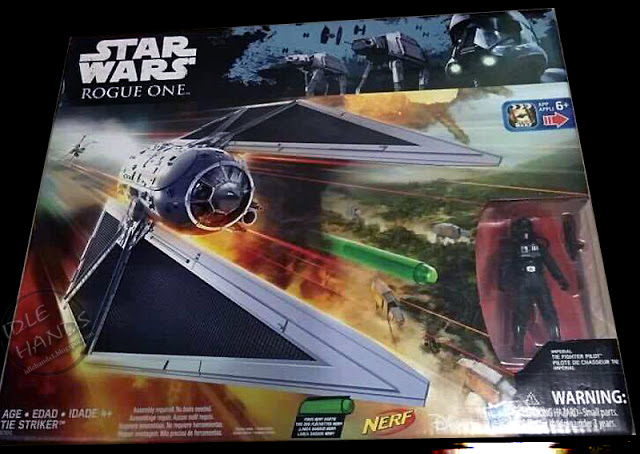 The first unofficial images of the toy version of the U-Wing surfaced last week, but where there are new Rebel Alliance ships, there are always going to be new Empire ships. IdleHands has posted a first look at Hasbro's TIE Striker toy, which also includes an Imperial pilot figure a green Nerf dart that can be launched from the ship itself. This will most likely be available on September 30th, 2016 as part of this year's Force Friday event (which may or may not be called Rogue Friday this time around).
Speaking of leaked toy stuff, YouTuber chefatron has managed to get his hands on the first wave or Rogue One "Black Series" action figures over a month before they're supposed to hit shelves as part of this year's Force Friday/Rogue Friday event. And naturally, he's gone ahead and reviewed each of them on YouTube. You can watch his detailed look at the Jyn Erso figure above and reviews of Cassian, K-2SO, and the Death Trooper below. As you'd expect from the Star Wars Black Series, these figures are more detailed than your typical action figure (and have the price tag to match).
Like with The Force Awakens last year, you can expect to see Rogue One everywhere you look within a few months. Disney and Lucasfilm have inked promotional deals with Duracell, General Mills, Gillette, Nissan and Verizon, so the marketing deluge will cover every corner of your existence.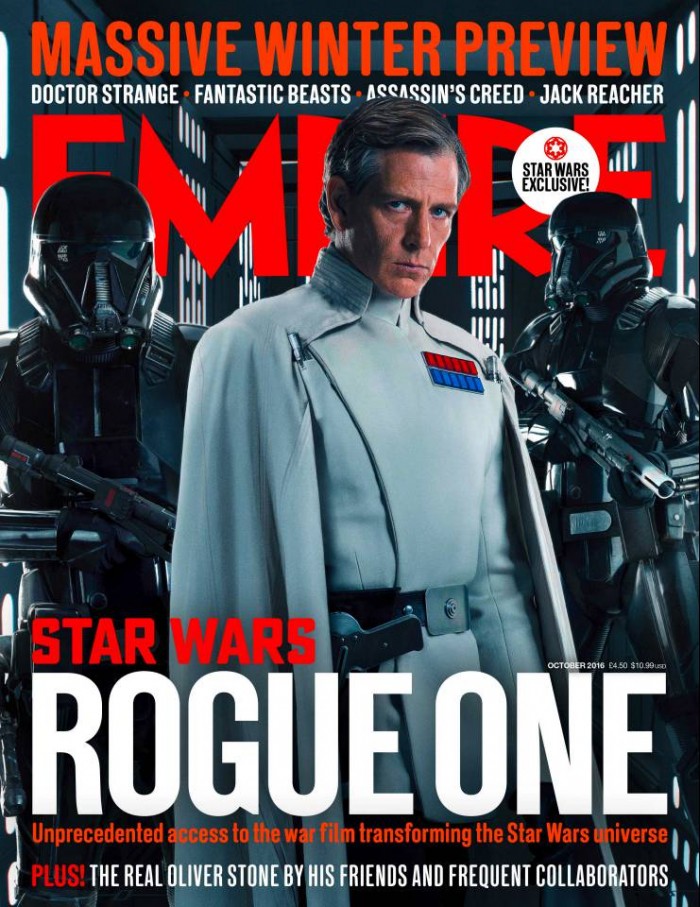 Rogue One is gracing the cover of Empire Magazine's winter preview and naturally, there are two variants depicting different group of characters. First up is the Imperial crew, featuring Ben Mendelsohn's Director Orson Krennic and two of his Death Troopers.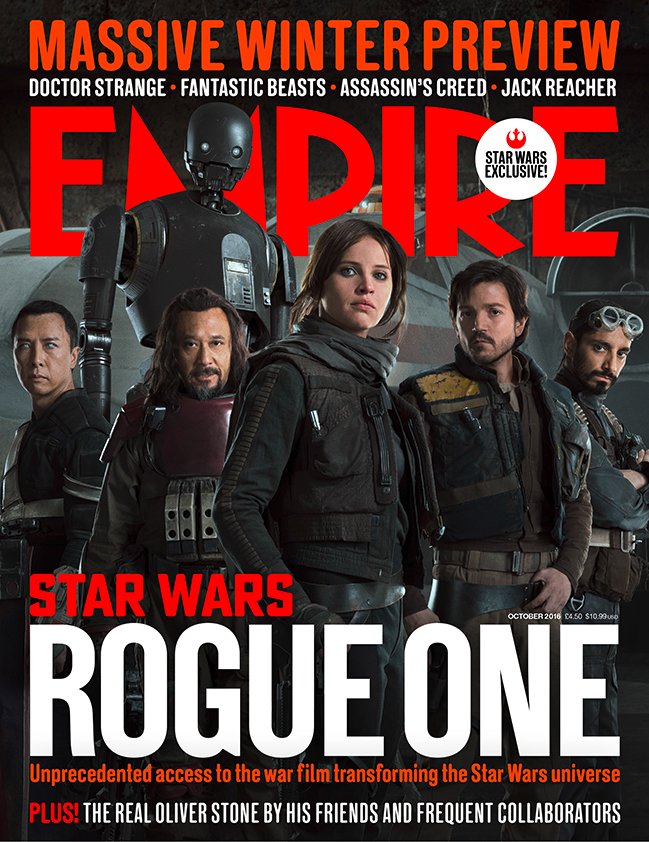 Then there's the Rebel cover, featuring the likes of Jyn Erso (Felicity Jones), Cassian Andor (Diego Luna), Bodhi Rook (Riz Ahmed), Chirrut Îmwe (Donnie Yen), Baze Malbus (Jiang Wen), and K-2SO (Alan Tudyk).
#RogueOnewish Neil's brilliant colleagues at @allpay_payments took this amazing photo to promote his campaign! WOW.. pic.twitter.com/EaXPKE88ts

— St Michael's Hospice (@StMichaelsHosp) August 18, 2016
Illustrator and lifelong Star Wars fan Neil Hanvey was diagnosed with terminal cancer in April and given only six to eight months to live. However, his wife and his nurse have begun a campaign to give him one last gift before he passes away: an early screening of Rogue One. Rallying behind the #RogueOneWish hashtag, Hanvey's friends and family are lobbying for Lucasfilm to grant him a final wish, asking others to join in through a post on Facebook. So far, there hasn't been any official response from anyone who can make this happen (although Mark Hamill has retweeted a fan's tweet about Hanvey's situation), but it's no secret that J.J. Abrams helped a number of terminally ill fans see Star Wars: The Force Awakens early. All we can do now is cross our fingers.
Back in June, the first footage from the awkwardly titled Star Wars Battlefront: X-Wing VR Mission was revealed. The DLC/expansion/experience (pick your terminology) would be free for anyone who owns the Star Wars Battlefront video game of the PlayStation 4...which is a lot of people, which makes this game a perfect advertisement for Sony's ongoing journey into the virtual reality world. Anyway, Criterion Games producer James Svensson revealed in a new interview that the game has a new (and equally unwieldy!) title:
Star Wars Battlefront Rogue One: X-wing VR Mission is an extension of the base game, which is known as a truly authentic Star Wars video game. It's been really important for us to hit that high bar, working closely with Lucasfilm to ensure that the VR experience is fun and exciting for Star Wars fans. The VR Mission will be available for free to all owners of Star Wars Battlefront and a PlayStation VR headset on PlayStation 4.
Yep, that new title explains it all. Star Wars Battlefront Rogue One: X-Wing VR Mission (whew) is set during the events of Rogue One. Svensson clarified this in another answer:
Rogue One is in the same time period the base game covers, so to be relevant in the ever-evolving Star Wars universe we've since been able to work with Lucasfilm to make the connection here.
As usual, the synergy is strong with Lucasfilm and its various business partners.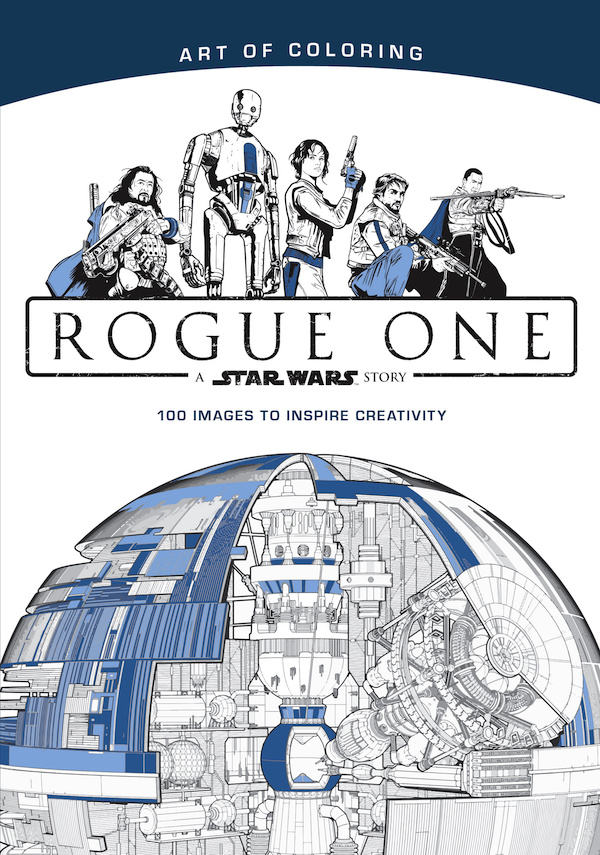 Coloring books for adults are all the rage these days, so of course Star Wars is getting in on that business. A new "coloring book for young adults and adults that includes scenes and characters from Rogue One" has been made available for pre-order on Amazon for $15.99 and the cover promises "100 images to inspire creativity." This looks perforce for those who have already exhausted those Game of Thrones and Doctor Who coloring books they secretly bought and hid from their children so they didn't ruin their work with amateur hour scribblings.
Jedi-Bibliothek (via Star Wars Underworld) has dug up new preliminary covers for three upcoming Rogue One books. The junior novelization is currently set for a March 28, 2017 release and the Jyn Erso-centric young adult novel and the Baze and Chirrut "middle grade" novel will both arrive on May 2, 2017. Naturally, all three covers are subject to change.