The Lost Boys TV Series Will Span 70 Years, From 'Veronica Mars' Creator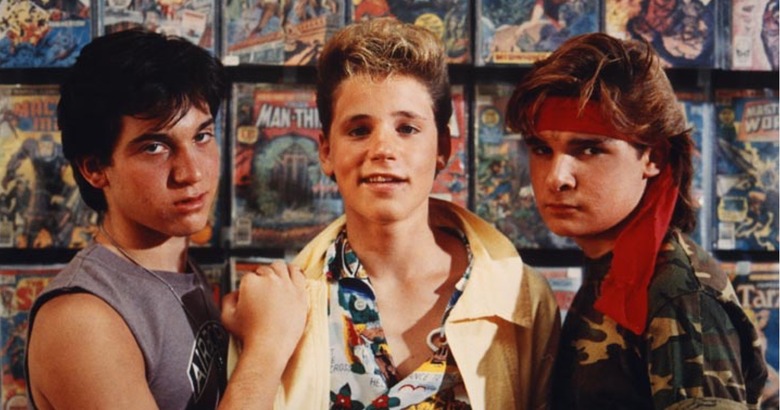 The CW has hired Veronica Mars/iZombie creator Rob Thomas to create a television series adaptation of the iconic 1987 Warner Bros horror comedy film The Lost Boys. Find out more details about The Lost Boys tv series, after the jump.
Deadline
has learned that The Lost Boys tv series has been envisioned as a seven-season, anthology-style story spanning 70 years, with each season chronicling a decade.
Season 1 will be set in San Francisco during the Summer of Love, 1967. Each season, the humans, the setting, the antagonist and the story all change — only the vampires, our Lost Boys, who like the Peter Pan characters never grow up, remain the same. The project, which will explore what it really means to be immortal, is executive produced by Thomas via Spondoolie Productions, his frequent collaborators Danielle Stokdyk and Dan Etheridge as well as Gulfstream principals Mike Karz and Bill Bindley.
Now I must admit, I'm kind of a softy for The Lost Boys, but I usually hate the glossy, fun, disposable nature of most CW series. The cynical side of me thinks that as The Vampire Diaries is winding down, CW is just looking to replace it with another vampire-centric series. Warner Bros produced two direct to DVD Lost Boys sequels; both were pretty bad, but the last one at least reteamed The Frog Brothers.
All of that said, the 70-year anthology pitch sounds fascinating. I just wish this series was at home somewhere else like FX or even USA Network. I also loved Thomas' Veronica Mars so I'm going to give this one a chance if/when it premieres on television.
The cult classic Joel Schumacher film starred Jason Patric, Kiefer Sutherland, Jami Gertz, Corey Haim and Corey Feldman. The film told the story of two Arizona brothers, played by Patric and Haim, who move to California and end up in a confrontation with a gang of young vampires. Here's a trailer for the original film:
The film had an incredible cast, some fun humor, a lot of crazy Schumacher style and campy 80's goodness. I imagine a television version will look more akin to the recent wave of YA adaptations and remakes like Twilight or Teen Wolf, but I hope I'm wrong. I'm wondering if any of the original cast will be brought back for a supporting role in the televisions series. Corey Feldman isn't too busy, and Keifer Sutherland has been doing a lot of television these days — It could be fun to have him show up as an older vampire.
Vertigo Comics recently announced a Lost Boys sequel comic book series written by Hack/Slash creator Tim Seeley and art by The Dark & Bloody's Scott Godlewski and Patricia Mulvihill. Hitting comic book stores on October 12th 2016, the story returns to Santa Carla, California where Michael and Sam Emmerson, Star, and Edgar and Allan Frog all still reside. After the death of the fictional town's vampire leader, Max, the place is only momentarily rid of its vampire problem. A pack of bloodsuckers called the Blood Belles come to town, searching for their sister, Star. Again, Michael and Sam team up with the Frog siblings to confront the pack of vampires.