Nobody F––ks With The First Look At John Turturro In That 'The Big Lebowski' Spin-Off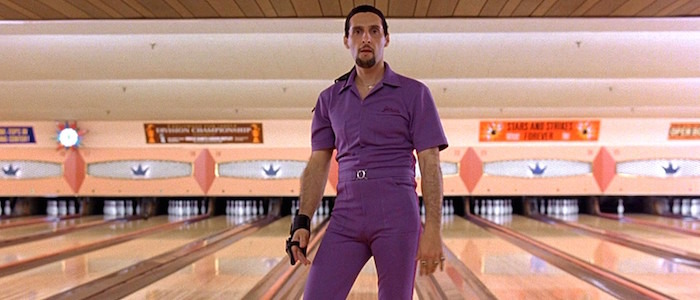 I probably have to eat a pile of shoes or hats or something because I'm pretty sure I've said in public, on more than occasion, that John Turturro's much-discussed The Big Lebwoski spin-off was obviously a pipe dream that was never going to happen. Well, I was apparently wrong. Which article of clothing shall I devour first?
The news that Turturro was reprising the role of Jesus Quintana in a new film broke just a few days ago and now the first picture from the set has arrived. Lesson learned: don't ever underestimate the perseverance of a beloved character actor who really, really loves one of his most memorable characters.
While Turturro is apparently playing Jesus (an eccentric lowlife and exceptional bowler) once more, this project doesn't have a direct connection to The Big Lebowski. Joel and Ethan Coen are not involved in any way. This appears to be a standalone film that just-so-happens to star a familiar face. So don't expect any came appearances from The Dude or any White Russian jokes. After all, the character was created by Turturro before appearing in The Big Lebwoski, hence his passion for the character.
And that brings us to this image from the set, which finds John Tuturro looking...an awful lot like John Tuturro. Then again, it's not like Jesus is defined by his physical appearance or wardrobe (although that purple outfit certainly left an impression).
The Man . John Tuturro on location. Love you
A photo posted by @susanlovesjack on
Strangely, this film is apparently a remake of the 1974 French film Les Valseuses. This new version, which also stars Bobby Cannavale, Audrey Tautou, and Susan Sarandon, titled Going Places, is about...
...two petty thieves, Turturro's Jesus and Cannavale's Petey, compete to give a woman (Tautou) her first orgasm after she's roped into their hijinks. Sarandon also ends up in their company, playing a criminal who just got out after a long stint in prison.
In other words, it sound exactly like the kind of offbeat, oddball little movie Turturro tends to make when he's not earning a paycheck making other, bigger movies better just by showing up. The Big Lebowski connection may raise Going Places' profile a bit, which means more eyes on the film and, possibly, more success than some of Tuturro's other fringe projects.
Additional details on the film remain unknown at this time, but we'll surely learn more in the coming weeks.