'Spider-Man: Homecoming': Zendaya's Role Revealed (And Yes, It's Someone You Know From The Comics)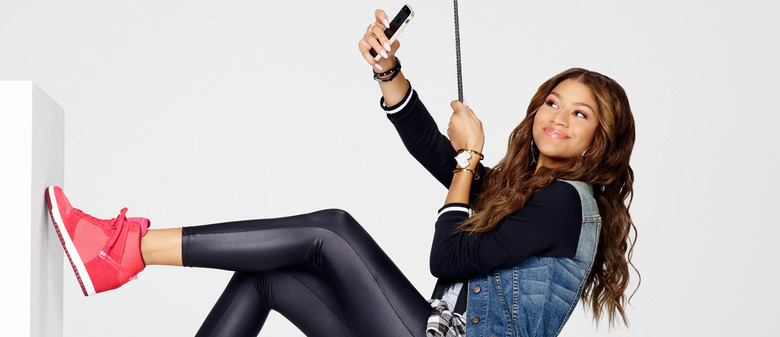 For a couple months this summer, Spider-Man: Homecoming seemed to be adding a new cast member every three hours. But while we've got a pretty good idea at this point of which actors are in Spider-Man: Homecoming, we know a lot less about what they're doing in it. Even the Spider-Man: Homecoming footage unveiled at Comic-Con was skimpy about details on that front.
But secrets rarely stay locked down for long on a project this highly anticipated. A new report today reveals exactly which character female lead Zendaya is playing in Spider-Man: Homecoming, and yes, it's a familiar name from the comics. Get details on the Spider-Man: Homecoming Zendaya character below. (Be warned this reveal could be a spoiler.)
Earlier reports indicated Zendaya would be playing "Michelle," leading to speculation that she could be comic book character Michelle Gonzalez. However, TheWrap reports today that she is playing classic Spider-Man character Mary Jane Watson. According to their sources, "At least one recent draft of the script has Zendaya's character dropping several clues to her identity as Mary Jane." Sony and Marvel have not commented on the Mary Jane scoop.
In addition to Zendaya as Mary Jane, Spider-Man: Homecoming stars Tom Holland as Peter Parker, Tony Revolori as Flash Thompson, Laura Harrier as Liz Allan, Jacob Batalon as Ned Leeds, Marisa Tomei as Aunt May, Robert Downey Jr. as Tony Stark, and Michael Keaton as the villain (almost certainly Vulture). Jon Watts is directing from a script by Jonathan Goldstein and John Francis Daley, and although plot details remain under lock and key, filmmakers have described the movie in vague terms as a high school movie a la John Hughes.
Mary Jane Watson was previously portrayed by Kirsten Dunst in Sam Raimi's Spider-Man movies starring Tobey Maguire. More recently, Marc Webb cast Shailene Woodley as Mary Jane for The Amazing Spider-Man 2 starring Andrew Garfield, but her scenes were cut.
Mary Jane Watson usually serves as a love interest to Spider-Man (along with Gwen Stacy), but it is still unclear if that will be the case in Spider-Man: Homecoming. We only got a few quick glimpses of Zendaya in the Comic-Con footage, and her character came across as somewhat snarky but friendly toward Peter. While we wait to see how that relationship plays out, please enjoy this extremely adorable video of Zendaya and Holland dancing together.
Here's an awesome video of us doing the Typo Challenge???????????? and we're killinnn it @zendaya @tomholland2013 !! Show us your best Typo challenge, make a video & tag us! Link to song in @mytypolife 's bio #MyTypoVideos #TypoDanceChallenge #dancingwithDej
A video posted by dejacarter (@dejacarter) on
Spider-Man: Homecoming arrives July 7, 2017.