'Black Mirror' Goes Retro In First Season 3 Images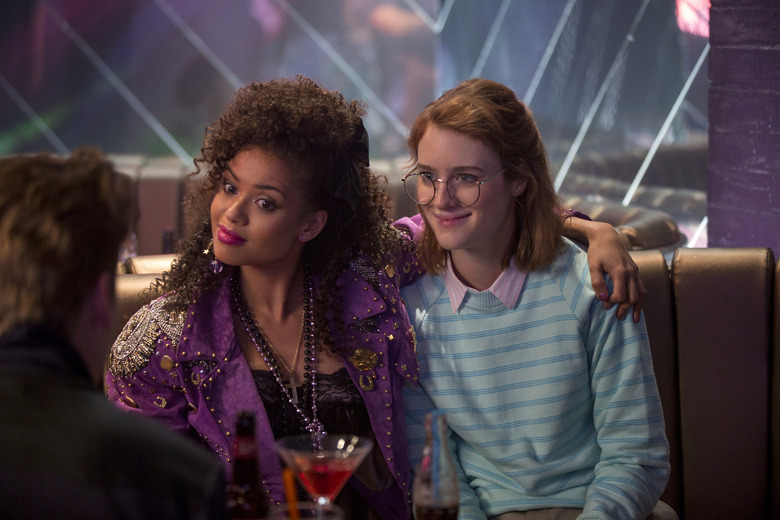 Netflix announced last year that it was picking up Black Mirror for a third season, and last month revealed that the new episodes would premiere this fall. But as we say in the age of Instagram and Facebook, pics or it didn't happen. So showrunner Charlie Brooker has now shared the first Black Mirror season 3 images for us to enjoy. And some of them look surprisingly... retro? The series has thrown some pretty shocking twists at us over the years, but even we did not see a 1980s episode coming.
That's Gugu Mbatha-Raw and Mackenzie Davis up there in those fetching '80s fashions, and still other photos offer our first look at Bryce Dallas Howard in an episode directed by Joe Wright. Check out the new Black Mirror season 3 images below. 
First up, here's a look at the episode titled "San Junipero," starring Mbatha-Raw and Mackenzie. The installment was directed by Owen Harris, who also helmed the heartbreaking episode "Be Right Back" in 2. There's a definite retro vibe to them — Mbatha-Raw is channeling classic Madonna, and Davis looks like she's been trading fashion tips with Barb from Stranger Things. The photos definitely seem to fit with the '80s and '90s nostalgia that's in vogue right now, from the aforementioned Stranger Things to the upcoming Ready Player One, but knowing Black Mirror there's sure to be some sort of weird, queasy twist to it.
The characters in "Nosedive" look decidedly more contemporary. This episode was directed by Joe Wright from a script by Rashida Jones and Mike Schur of Parks & Recreation fame. Howard is the only one we see here, but she stars with Alice Eve and James Norton. The sight of people fiddling with their phone isn't really that remarkable, but that's probably the point. While some of the show's episodes feel more fantastical or far-fetched, plenty of them are grounded in a reality not unlike our own.
All the photos come from Brooker himself. Here's the full list of upcoming episodes:
"San Junipero," starring Gugu Mbatha-Raw & Mackenzie Davis, directed by Owen Harris
"Shut Up and Dance," starring Jerome Flynn & Alex Lawther, directed by James Watkins
"Nosedive," starring Bryce Dallas Howard, Alice Eve, and James Norton, directed by Joe Wright
"Men Against Fire," starring Michael Kelly, Malachi Kirby, and Madeline Brewer, directed by Jakob Verbruggen
"Hated in the Nation," starring Kelly Macdonald, directed by James Hawes
"Playtest," starring Wyatt Russell & Hannah John-Kamen, directed by Dan Trachtenberg
The next six installments of Black Mirror will arrive October 21 on Netflix.