'Comedy Bang! Bang!' Coming To An End After Five Seasons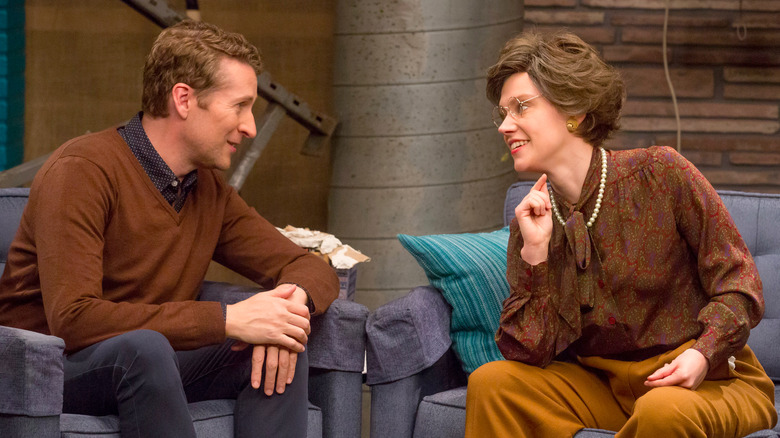 After five seasons as a series on IFC, the podcast turned comedic talk show known as Comedy Bang! Bang! will be coming to an end. Series creator and host Scott Aukerman (aka Yacht Rockerman) announced the news to all of his followers on Twitter today indicate that the upcoming second half of the fifth season of the show, premiering this fall, will be its last. But the good news is, the ending of the show wasn't a surprise, and they're going to go out with a, well, you know.
Here's what Flop Chonkerton posted to Twitter today about Comedy Bang Bang ending:
He continued in a series of tweets:
We've had a great run, and I couldn't be more proud of the show. We have 10 final episodes premiering in October, and a great 2-part finale. We had enough time to write something I feel is truly special and fans will love. Plus we get to do some crazy stuff in the final ten. Want to thank all the guests who have come on, and especially my three co-stars Reggie Watts, Kid Cudi and our current superstar Al Yankovic. I've always said the sooner we end it, the sooner we can get to the reunion shows. See you in 10 yrs.
The first half of the fifth season of Comedy Bang! Bang! aired over the summer, finishing up on July 1st. Now the second half will premiere on Friday, October 29 with back-to-back episodes at 11pm and 11:30pm Eastern time. Two episodes will air every Friday in the weeks following (with the exception of Thanksgiving weekend) until the series finale airs on December 10th.
The recent seasons of Comedy Bang! Bang! have had an interesting run, with the fourth season having a total of 40 episodes. Even this last season of 20 episodes is double what the first season had on IFC. But it's been a great run of 110 episodes chock full of some of the best names in comedy doing some downright goofy stuff.
As for who will be appearing on the upcoming final 10 episodes of the show, Deadline reveals the roster includes Malin Akerman, Mike Colter, Kaley Cuoco, Ben Folds, Gillian Jacobs, Allison Janney, Jason Mantzoukas, Haley Joel Osment, Chris Parnell, Krysten Ritter, Adam Scott, Paul F. Tompkins, Matt Walsh and the return of former co-host Reggie Watts.
Comedy Bang! Bang! has never been a huge series in the ratings department, but it has quite a loyal cult following, which is why it was perfect for IFC, alongside shows like Portlandia. Plus, if you ever get a chance to see the podcast recorded live, that's always an amazing treat, especially if Paul F. Tompkins appears as Werner Herzog.
We'll look forward to these final 10 episodes of Comedy Bang! Bang! with great anticipation and a bit of sadness. But at least the podcast will still satisfy our thirst for quirky comedy from Stop Tacoman.