'Stranger Things' Bits: Fan-Made Toys And Art, Real-World Connections, And A Very Cool Type Generator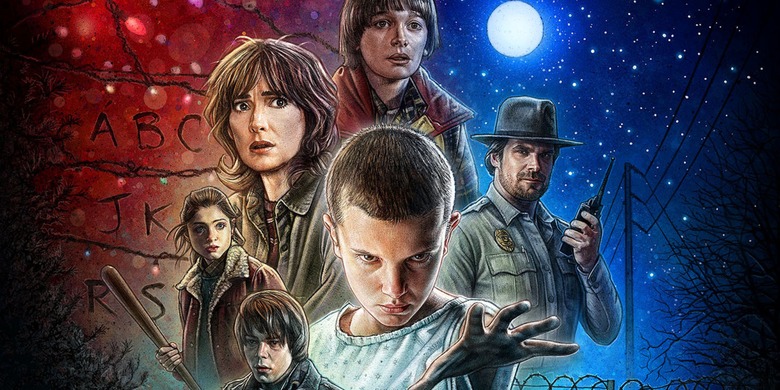 In this edition of Stranger Things Bits:
You can now write whatever you want in the Stranger Things font.
A look at the real-world conspiracies that may have inspired the show.
Aaron Paul interviews Millie Bobby Brown.
New fan-made toys, art, t-shirts, and more!
If the distinctive typeface used in the logo for Stranger Things gives you warm and fuzzy feelings about old school genre movies and creepy paperback horror novels, you'll want to follow this link and indulge in a Stranger Things Type Generator. The download option is a little buggy, but otherwise it works like a charm. For example: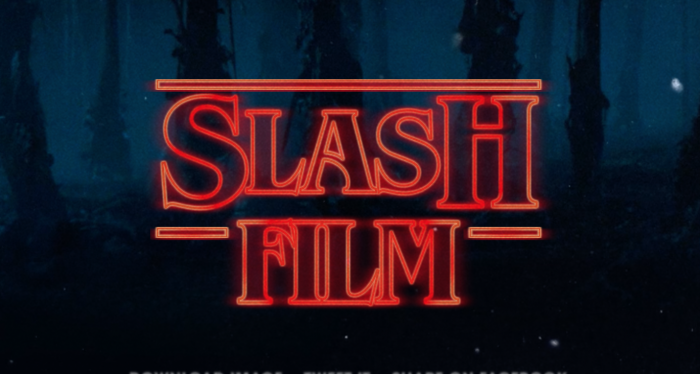 ScreenRant has published an excellent look at the connection between the events of Stranger Things and several real life organizations, programs, and conspiracies. While the show is purely science fiction, it has its roots in some actual (and often nefarious) events. Here's a sample:
Of course, Dr. Brenner had his reasons for putting El through such horrible rigors, whether valid or not. Stranger Things slowly discloses that his research is an attempt to expand her telepathic and psychic abilities. And if the Duffer Brothers are as well-steeped in black ops and covert government organizations as fans assume – which they are – the DOE installation is a blend of MKUltra and the Stargate Project.
Stargate was the U.S. Government's attempt to combat the remote viewing and psychic gap (not as critical as the Doomsday Weapon gap apparently). During the height of the Cold War, U.S. Intelligence believed the U.S.S.R. was developing a so-called 'psychotronic' espionage program. To combat Soviet psychic spies, the CIA assembled a group of allegedly gifted remote viewers and psychics to assist in intelligence gathering and counter-surveillance measures. At one point, the study even included notable mentalist Uri Geller.
You can (and should) read the entire thing at the link above.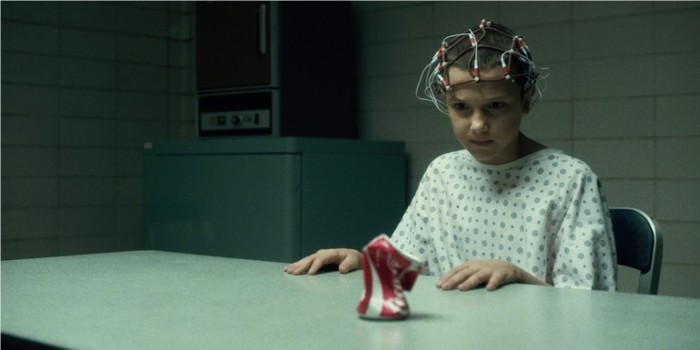 Stranger Things has its fair share of high profile fans, but Breaking Bad star Aaron Paul has been one of the most enthusiastic proponents of the series. So yes, his interview with star Millie Bobby Brown (who plays Eleven) is a breezy joy, filled with amusing anecdotes. For example, there's the story of how she was practically tricked into shaving her head:
Actually they were very clever. I got the call back and then I did a Skype meeting and there was nothing at all about head shaving! And then we flew over to L.A., and they were like, 'Are you ready?' And I was like, 'For what?' And I was next to Finn [Wolfhard, who plays Mike Wheeler], and Ross Duffer comes up to me and puts his hand out and goes, Bzzzzzzzzz. And my mom's like, 'No! That's not happening.' And I was like, 'Mom. You need to chill out; it's gonna grow back.' My mom was against it. And me and my dad were like, 'Come on. It's fine!' Today, actually, we went to an Indian restaurant and someone was like, 'Hello, young man.' That was like the 500th time someone called me a boy, and I'm really fine with it.
And then there's little twist, where Brown reveals that, unlike Eleven, she really, really hates Eggo waffles.
Uhhhhh. D'you know what? I'm gonna say zero. They are absolutely disgusting.
Anyone hoping for any details about the second season need to look elsewhere, because Brown doesn't know 'em. However, she does promise Paul the scoop when she does:
I'm gonna tell you everything...I've heard nothing. [Laughs] You know Netflix. We haven't had an official announcement yet. The Duffer brothers are open-minded. They're geniuses. I would love [a second season]. I think all of us would. Listen, if I know, you'll be the first one to know.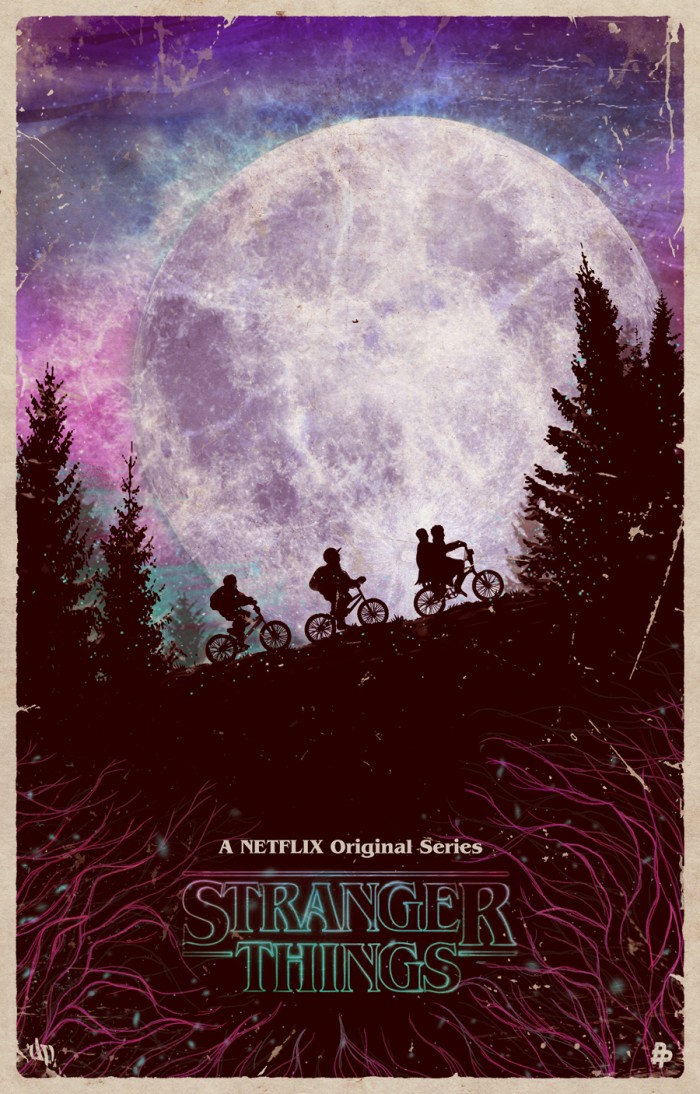 Since Stranger Things wears its '80s nostalgia on its sleeve, the mash-ups with other films cut from similar cloth were inevitable. For this poster, artist Daniel Nash has merged the series with iconic imagery from Steven Spielberg's E.T. and the results are delightful. The poster is part of a limited edition of 50 prints, so act now if you want to purchase one.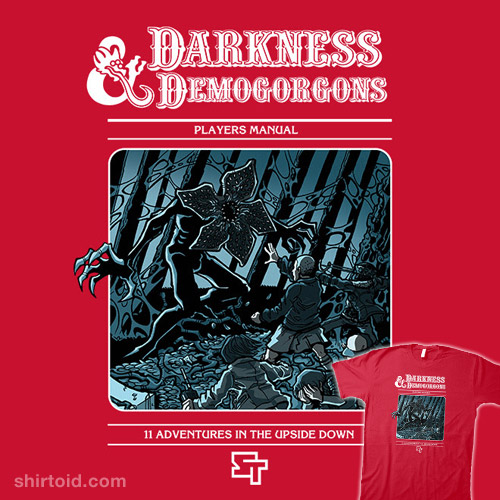 I especially like this t-shirt design by Tom Kurzanski, which takes imagery from Stranger Things and re-imagines it as the cover art of an old school Dungeons & Dragons manual.
Really wanted Stranger Things to be a game! Made a tiny/silly mockup gif! cc @milliebbrown @DavidKHarbour @netflix pic.twitter.com/rMRsyzEK1Q

— Midio (@midio) August 15, 2016
But those mash-ups don't have to be connected to another movie, of course. After all, it's easy and fun to imagine Stranger things as an old school RPG video game.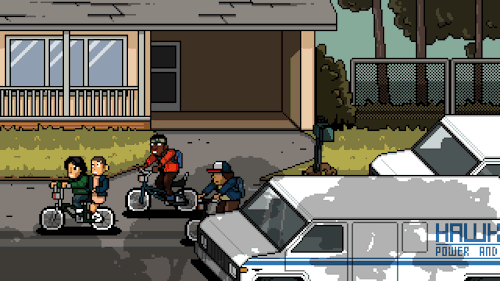 Or as an action-packed sidescroller (but only if there is a button to "use psychic powers to flip evil government van").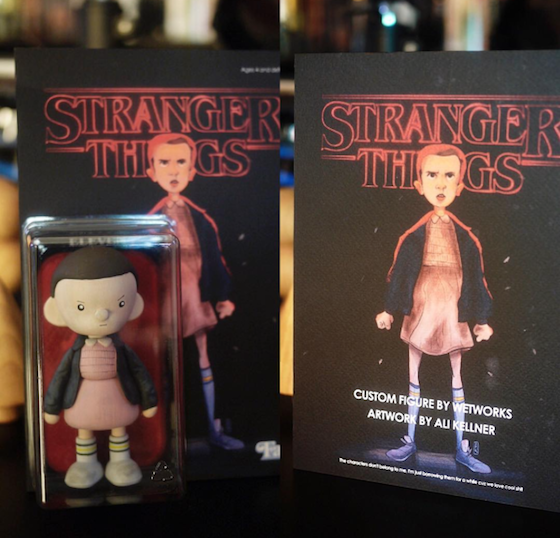 While there hasn't been any news about official Stranger Things toys (how could Netflix have seen the show's popularity coming?), intrepid fans have stepped up to to the task. First up is this Eleven figure created by Carlo Andrada Cacho, better known as "Wetworks" amongst toy aficionados. You can check out more images of the figure right over here.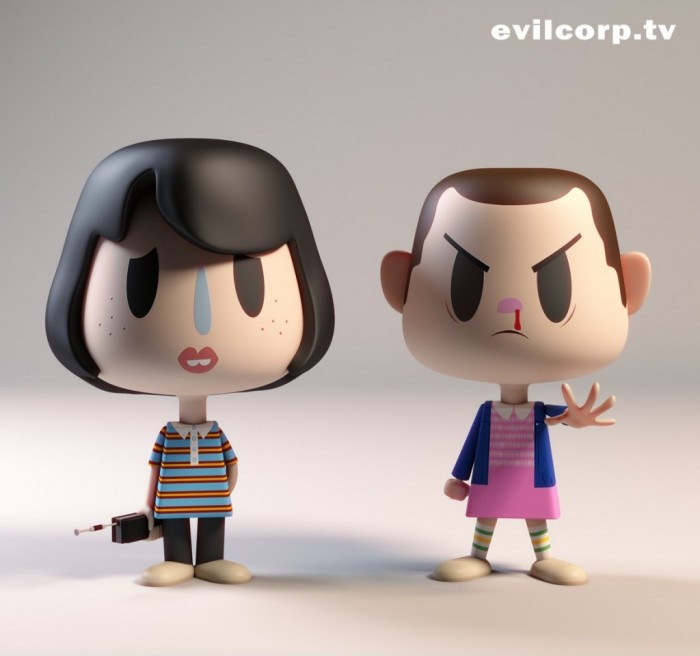 Toy designer Kibooki, who is best known for Funko's Vinyl Idolz, took some time to create vinyl figures for the entire cast of Stranger Things and the results are impressive. These aren't official and they aren't for sale. On his Twitter feed, he revealed that he made these just because he wanted to make them:
Right. That's it out of my system now. Time to move on. Have a great weekend! #StrangerThings pic.twitter.com/aJ3zSOZXYU

— kibooki (@kibooki) August 12, 2016
The next stop is for the right people to take notice and get these things made en masse. Because c'mon, there's no way people don't buy a ton of these.
And finally, I leave you with this heavy metal version of the Stranger Things theme song. The guy playing the guitar looks conspicuously '90s for someone covering a modern take on '80s music, but I recommend just rolling with it.