'MacGyver' Trailer: CBS Cobbles Together A New Pilot With Director James Wan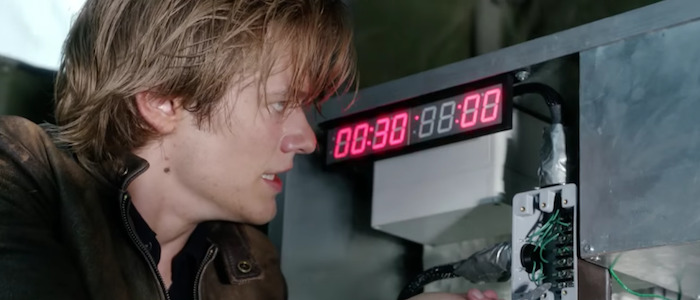 The Conjuring 2 has already come and gone from theaters, but James Wan's got another directorial effort coming our way this fall. A couple of months ago he was tapped to direct the pilot for a MacGyver reboot at CBS, with Lucas Till as the resourceful lead. Now the show is on track to premiere this fall, and you can get a peek at the new MacGyver trailer below. 
When exactly does MacGyver take place? The flatscreens and laptops suggest this show is set around now, and yet MacGyver himself looks like he walked out of a time capsule from 1986. This despite the fact that the actor who plays him, Lucas Till, wasn't even born until 1990. It's true that a mullet is part of the iconic MacGyver look, but the beauty of reboots is that they get to pick and choose what aspects of the original they want to keep. The hairstyle is one element they probably should have jettisoned.
The MacGyver reboot has already gone through some ups and downs. Wan had originally wanted to make a MacGyver feature film, but when New Line reworked those plans to make a TV series instead, Wan stayed on board to direct the pilot. Alas, scheduling conflicts took him out of that job, so David Von Ancken helmed the MacGyver pilot instead. Then CBS decided it wanted a new pilot, so Wan was brought back to direct.
Between Von Ancken's pilot and Wan's, MacGyver shed all of its cast members besides Till and George Eads, who plays Jack Dalton. The new cast includes Sandrine Holt as Patricia Thornton, Justin Hires as Wilt Bozer, and Tristin Mays as Riley Davis. The project also picked up a new showrunner, Peter Lenkov of Hawaii Five-0. Speaking at the TCA earlier this month, CBS exec Glenn Gellar admitted that while MacGyver has gone through "a little more retooling than most" pilots, it was worth sticking with the show.
We had Lucas Till. We were thrilled to have George Eads back on CBS. We have an iconic franchise, MacGyver, and Peter Lenkov who said, 'I will do this.' He's a phenomenal showrunner. He developed Hawaii Five-0 for us. Knowing we had these two actors and that IP and our faith in Peter, we felt we had more than enough to pick up the series and schedule it in front of Hawaii Five-0.
The new MacGyver will differ from the original in some significant ways, such as featuring a more close-knit team and a more emotional lead. But we can expect lots of callbacks as well. Lenkov teased "one very specific MacGyverism" in the pilot that serves as an Easter egg for fans, and floated the possibility of original MacGyver Richard Dean Anderson popping up for a cameo. "We've been talking to his reps about having him. We actually have a role in mind, and we've had this since we started prep on the pilot," said Lenkov. "So we are hoping he says yes."
CBS' MacGyver premieres this fall.