'Monster Trucks' Is Like 'How To Train Your Dragon' With Trucks, Says Lucas Till [TCA 2016]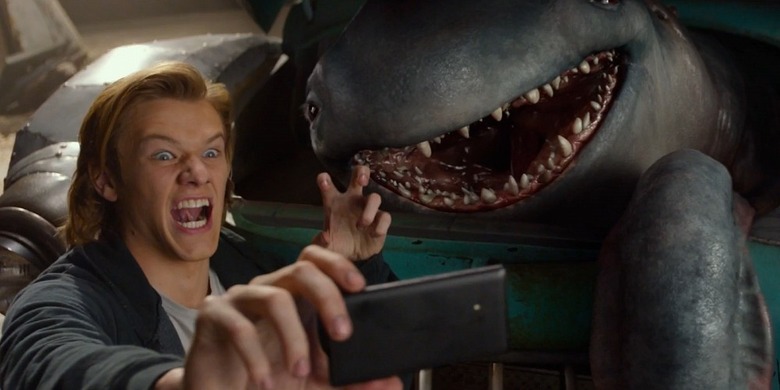 Lucas Till was part of CBS's MacGyver panel for the Television Critics Association. As the new lead, he was excited to talk about being Angus MacGyver. Before the series, Till filmed a role in the Monster Trucks movie and he was just as enthusiastic about that. Speaking with reporters after the MacGyver panel, Till described the film's unique take on the title vehicles, which in real life refer to trucks that perform in stadium arenas.
"Basically it's a creature that comes from somewhere and it gets into my truck," Till said. "I'm a kid who wants to get away from my hometown that I'm in because it sucks, I hate my dad. It's like How to Train Your Dragon but half live-action. How to Train Your Truck." 
Monster truck competitions have been around since Bigfoot debuted in 1981. Typical arena events have the oversized trucks with bigger suspension and oversized tires drive over normal sized cars, crushing them. The Monster Trucks movie adds a whole component about creatures coming to earth and controlling the trucks, so Till found it challenging to describe exactly what the Monster Trucks movie was about.
"It took until the trailer came out for me to explain it's a monster in a truck," Till said. "That's what it is. They were like, 'I don't get it, I don't get it.' Then the trailer came out. Oh ho ho, there's a monster inside the truck."
Monster Trucks is a live-action movie with CG-animated monsters. The trailer shows off practical driving sequences, with some clearly computer-generated visual effects flipping the trucks, or grabbing loose tires with monster tentacles. Till said he was personally involved in some of the stunts himself.
"Monster Trucks is like a big action movie," Till said. "That one was stunt heavy. Monster Trucks was a lot of stunts. I got to do some insane stunts they should've never let me do."
Chris Wedge, director of Ice Age, Robots, and Epic, directed Monster Trucks, his first live-action movie. Derek Connolly wrote the screenplay from a story by Jonathan Aibel, Glenn Berger, and Matthew Robinson. Jane Levy, Rob Lowe, Thomas Lennon, Amy Ryan, Danny Glover, Barry Pepper, Frank Whaley, and Holt McCallany co-star with Till. Though not yet rated, it looks like it's aimed at a PG rating for young kids.
Paramount will release Monster Trucks on January 13, 2017. MacGyver, starring Till, premieres Friday, September 23 at 8PM on CBS.