A 'Varsity Blues' TV Show Is Coming To A Television Near You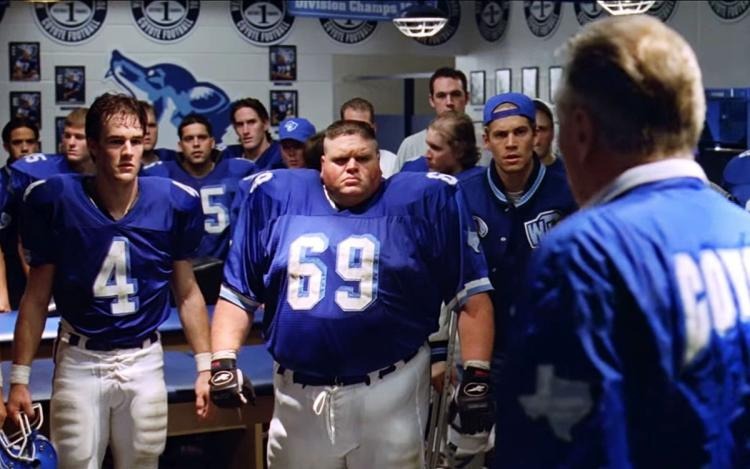 We can now officially add Varsity Blues to the long list of movies being adapted for television. The high school football movie is mostly remembered for its campier moments — most notably the seduction scene parodied by the wonderful Not Another Teen Movie – but it has its fans, ones that don't only appreciate it for its cheesier qualities. CMT, who's developing the TV show, is likely hoping those fans will be interested the Varsity Blues series they're planning.
Below, learn more about the Varsity Blues TV show.
Deadline reported CMT has ordered a script from the film's screenwriter W. Peter Iliff,. Iliff also wrote Point Break and Patriot Games, and he most recently made his feature directorial debut with Rites of Passage, a thriller starring Wes Bentley, Stephen Dorff, and Christian Slater. The screenwriter is the only talent from the Varsity Blues movie who is currently involved in the show, which Paramount TV is producing.
There are zero details regarding the story. Whether the show will follow brand new characters or Jonathon "Mox" Moxon (James Van Der Beek), Billy Bob (Ron Lester), Coach Kilmer (Jon Voight), Tweeter (Scott Caan), and Lance (Paul Walker) and Jules Harbor (Amy Smart) again is unclear. Surely nobody would find it sacrilegious if these characters were recast for the show, but Varsity Blues could easily follow a new team.
Another question is: Will the story remain in Texas? A Varsity Blues television show is destined to be compared to Friday Night Lights – another title that was first a movie, follows high school football players, and is set in Texas. Although Varsity Blues came out many years before Peter Berg's film and NBC's excellent drama — but not before H.G. Bissinger's book — we all know Friday Night Lights is what a lot of people will think of if or when a Varsity Blues television show materializes. Even the setup of the Friday Night Lights show and Varsity Blues aren't very different: an all-star quarterback gets hurt, so the second-string quarterback gets his chance.
Varsity Blues was directed by Brian Robbins, whose filmography includes A Thousand Words, Meet Dave, Norbit, and The Shaggy Dog. Robbins also directed Hardball and The Perfect Score – two kinda silly and harmless movies that aren't difficult to watch when they're on TV — but he's probably most known for Varsity Blues. Like his other films, it was hardly a critical darling, but it's not without its somewhat outdated charm.