A 'Parenthood' Revival Will Probably Happen At Some Point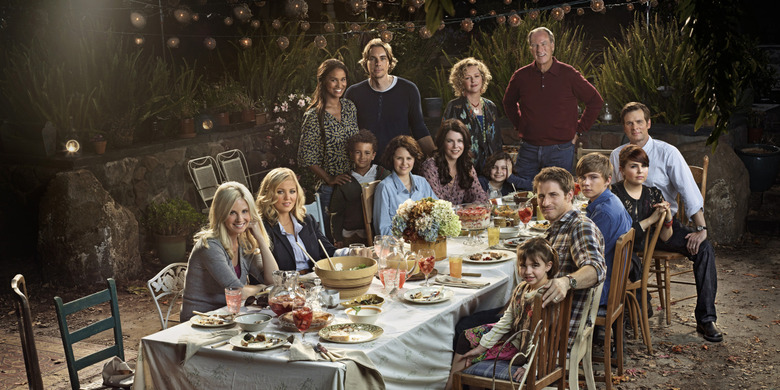 Two years ago, Parenthood ended its six-season run with 13 episodes. A lot of people assumed the show wouldn't return after the fifth season, which some fans consider to be the series' most underwhelming season, but NBC brought the Braverman family back for one last go. Could we ever see them again, though? From the sound of it, there's a good chance that'll happen when the time is right.
Below, learn more about a possible Parenthood revival.
Parenthood, which was loosely based on Ron Howard's 1989 film, aired from 2010-2015. The drama — which was often honest, frequently warm, and sometimes far too emotional to binge watch – starred Peter Krause, Lauren Graham, Dax Shepard, Mae Whitman, Monica Potter, Craig T. Nelson, Erika Christensen, and Bonnie Bedelia as the Braverman family. The series' creator, Jason Katims, was recently asked by TV Line about getting the cast back together again for a revival. He said nothing is happening with Parenthood at the moment, but it's a show and group of characters he wants to revisit, especially after seeing Lauren Graham return to Gilmore Girls in Netflix's revival:
I asked someone who was working on it how they structured it and how it all worked. Because I was thinking that might happen [with Parenthood] down the road a few years.
Katims went on to say he feels like the revival will happen at some point, and most likely when he has a story he wants to tell:
It would start at the moment when I feel like I have a story to tell. But the whole thing about Parenthood is the kids get a little older and their lives change and then there's more story to tell. I feel like that will happen at some point. And then it will be a question of, logistically, can we get the actors [back together] at the same time? And then we have to [find an outlet] that wants to [air] it.
The conversation started when TV Line asked about a scrapped Parenthood Christmas special. According to the outlet, last year NBC briefly considered a two-hour Parenthood holiday-themed reunion, but it never came to fruition. A few months ago, TV Line speculated they'd try the idea out again this year. Katims wouldn't comment on the holiday special, but he did have plenty to say about a revival, concluding that more time has to pass before the Braverman family can realistically return.