WTF: John Turturro Is Currently Filming A 'Big Lebowski' Spinoff?!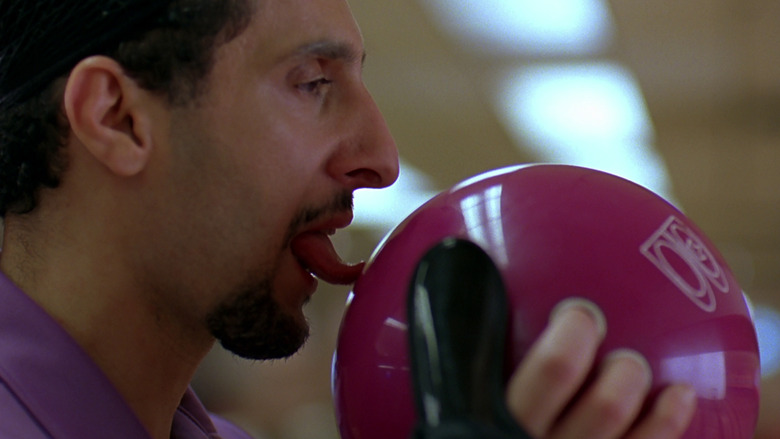 For years now, John Turturro has been really, really clear that he'd like to star in a Big Lebowski spinoff centered on his Jesus Quintana character. But for the most part, we've written off that chatter as wishful thinking. Actors talk all the time about sequels and spinoffs that never get made, and the Coens have never expressed any serious interest in making a Jesus movie.
As it turns out, though, Turturro was dead serious. In fact, he may even be working on that Big Lebowski spinoff as we speak. A new report indicates his new film Going Places, which is currently in production with Turturro, Bobby Cannavale, Audrey Tautou, and Susan Sarandon, is actually the long-talked-about Big Lebowski follow-up. 
Birth Movies Death broke the news of the Big Lebowski Jesus spinoff. According to their sources, Going Places is a remake of the 1974 French film Les Valseuses, which starred Gérard Depardieu and Patrick Dewaere, only with Turturro's Jesus as one of the main characters. The story follows...
... two petty thieves, Turturro's Jesus and Cannavale's Petey, compete to give a woman (Tautou) her first orgasm after she's roped into their hijinks. Sarandon also ends up in their company, playing a criminal who just got out after a long stint in prison.
The plot of the 1974 film is even weirder and darker than that sounds. Roger Ebert described it as the "most misogynistic" movie he could recall, and the New York Times critic grumbled that "the net effect was one of irritation and gloom." But the film has plenty of defenders as well, which explains why it's getting a remake in 2016. It should be interesting to see how the movie's sexual politics will play in the present day with a "pederast" as one of its protagonists.
So far, no one officially involved with the production has gone on the record to confirm that Going Places is indeed a Big Lebowski spinoff. And considering how many unsubstantiated Big Lebowski follow-up rumors we've heard over the years, we'd caution you to take this juicy detail with a grain of salt for now. But the news isn't as totally out of the blue as it might appear at first.
For starters, as we mentioned above, Turturro has been trying to get a Jesus-centric Lebowski spinoff off the ground for years. When the Coens made it clear they had no intention of revisiting the character, Turturro began seeking permission to make the Jesus movie himself. Then, earlier this year, he hinted to The Hollywood Reporter that the project was still in development. "It's a very complicated legal situation," he said, cryptically adding, "We'll see."
At the time, Turturro said that while the Coens would not direct, they'd "support" his plans. Moreover, he claimed Jesus was his creation and not the Coens'. "That character was actually based on a play I had done many years before that, a Spanish play I did at the public theater. It's a character I invented," he said. Finally, he dropped a clue that the Jesus movie could move sooner rather than later. "I can tell you I've been bowling," he teased.
Shooting on the Going Places remake / Big Lebowski spinoff is currently underway in New York State, so we can probably expect to hear much more about it in the not-too-distant future. The Coens are not creatively involved.