'Spider-Man: Homecoming' Poster Shows Spidey Hanging Around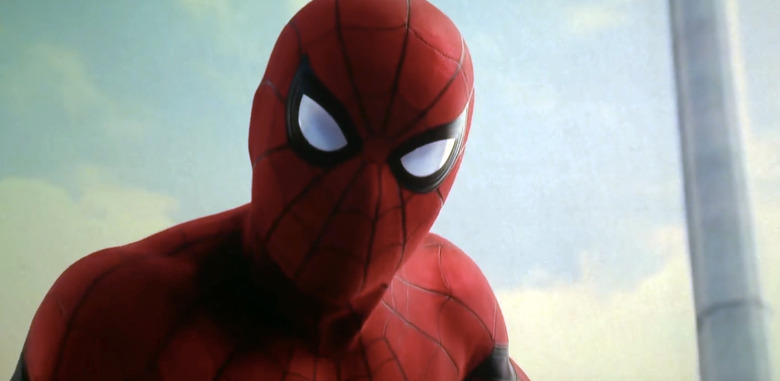 Even though Spider-Man: Homecoming has been in production down in Atlanta, Georgia for awhile now, we've yet to see any official photos emerge online. Sure, there have been spy photos that have provided hints of what we'll see in the first solo outing for Sony and Marvel's new collaborative spin on the webslinger, but that's it. Well, now we have about as close to an official image as we'll get with a Spider-Man: Homecoming poster that was spotted at Magic Las Vegas, a fashion trade show for apparel vendors.
Check out the Spider-Man Homecoming poster after the jump.
Here's the poster from an Instagram story by one of the trade show attendees (via The Wrap):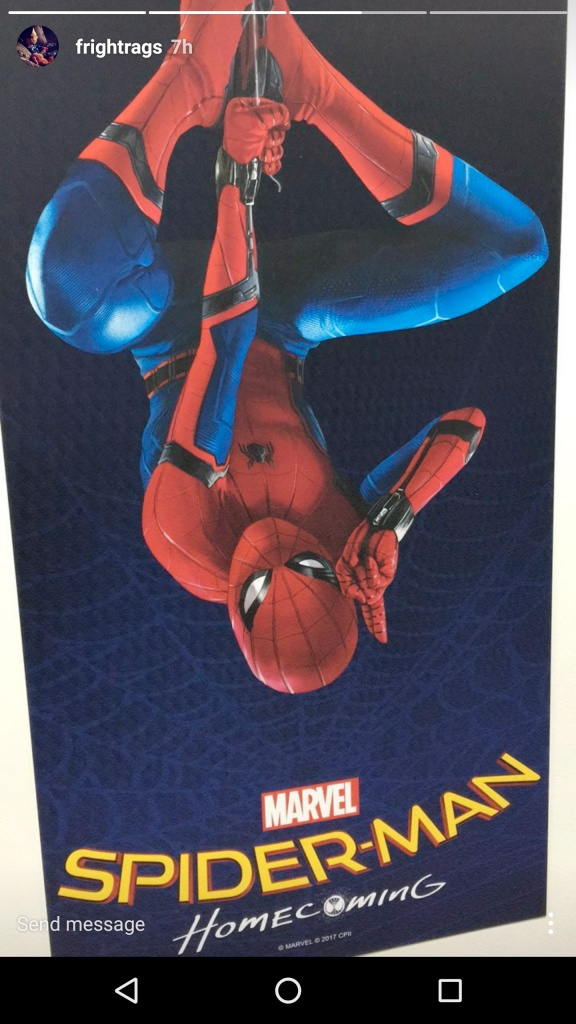 If you haven't figured out why an image like this would be at a fashion trade show, all the vendors like to know what they're getting into when it comes to pushing merchandise from the likes of Marvel Studios. When Spider-Man: Homecoming gets closer to release, you can bet that the webhead is going to be plastered all over anything and everything you can buy in stores. Plenty of fans will be looking forward to that since Spider-Man didn't get much of a merchandising push from Captain America: Civil War.
The new image doesn't offer much we haven't seen before, though it does give us a better look at the webshooters that Tony Stark gave to Peter Parker. They stand out pretty decently against the red and blue since they're black. It makes me wonder if the other black accents on the suit are connected to the tech that Stark built into the webshooters. Maybe they monitor his vitals or help him tap into his powers a little more. We're likely to find out sometime down the road.
For more details on Spider-Man: Homecoming, make sure you check out our recap of the panel from Comic-Con last month, which includes a description of the footage shown in Hall H (which won't be released online). Director Jon Watts and writers John Francis Daley and Jonathan Goldstein have crafted a high school movie in the spirit of John Hughes but with a superhero twist, and that should make this movie pretty unique when compared to the other Marvel Studios movies.
In addition to Tom Holland as Spider-Man, the rest of the cast includes Robert Downey Jr., Michael Keaton, Marisa Tomei, Zendaya, Tony Revolori, Jacob Batalon, Laura Harrier, Donald Glover, Logan Marshall-Green, Martin Starr, Hannibal Buress, Abraham Attah and Angourie Rice. Plus, Michael Chernus just joined the cast as The Tinkerer, and UFC fighter Tyron Woodley also landed a role. In addition, there might be another Avenger cameo coming.
Spider-Man: Homecoming will be released on July 17, 2017.