Ray Fisher's Cyborg To Appear In 'The Flash'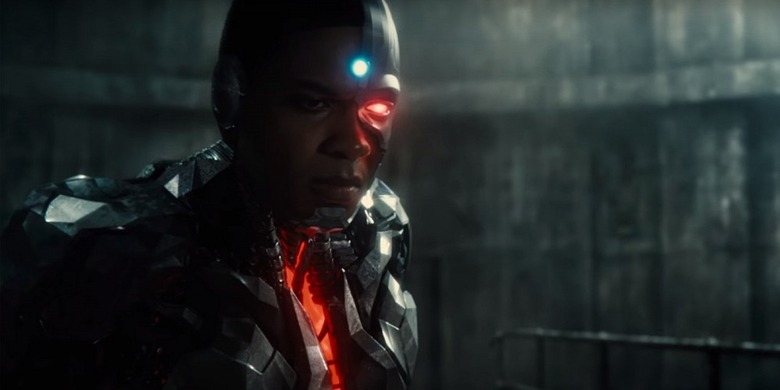 The upcoming Justice League sees Ezra Miller's The Flash teaming up with a whole bunch of other DC superheroes. And it looks like at least one of his new pals will be staying by his side for a while. A new report indicates Cyborg a.k.a. Victor Stone, played by Ray Fisher, will make an appearance in Rick Famuyiwa's The Flash solo movie due out in 2018. Both characters made their DC cinematic universe debuts in this spring's Batman v Superman: Dawn of Justice, and will fight together in next year's Justice League.
Variety recently confirmed the Flash Cyborg appearance, although producer Deborah Snyder hinted at it in a conversation with Forbes earlier this year:
[W]hen we get to the Flash movie, Ezra Miller and Ray Fisher — who plays Cyborg — are kind of our youngest characters, and they have a really nice camaraderie with each other. Ezra is super funny, so the tone of that film will be very different than the rest of them.
It's unclear how big a role Cyborg will have in The Flash movie. But this in The Flash is surely intended to boost interest in the lead-up to the Cyborg solo movie expected out in 2020. Batman v Superman has already shown us the creation of Cyborg, as he undergoes scientific experiments by his father and emerges as, well, a cyborg. Interestingly, the Justice League trailer shows Cyborg in what appears to be fully human form, which could suggest we'll get a little more of his backstory in that film.
While we don't know much about either The Flash or Cyborg at this point, Snyder has described both as "lighter" characters in comparison to Batman, Superman, Aquaman, or Wonder Woman. "I think they're going to appeal to a younger audience," she said. During his recent set visit, Peter noted that Fisher and Miller were "clowning around between takes," so hopefully some of that playful chemistry will translate to the characters' onscreen relationship.
Let's just hope Cyborg's role is less awkwardly integrated than the Flash's was in Batman v Superman: Dawn of Justice. Warner Bros. clearly wants their DC films to feel interconnected a la the DC universe, but so far a lot of those crossovers have felt clumsy. Wonder Woman may have been the best part of Batman v Superman, but she didn't really need to be there, and a good chunk of her already limited screentime is devoted to watching teaser trailers for the studio's other superhero films (including the Cyborg origin story mentioned above).
Batman v Superman was the feature film debut for Fisher, who's better known for his stage work. In addition to Miller and Fisher, The Flash will also star Kiersey Clemons, who worked with director Rick Famuyiwa in the Sundance charmer Dope.
The Flash and Cyborg's next outing together, Justice League, arrives in theaters November 17, 2017.