Disney's 'The Little Mermaid' Live-Action Remake Nets Lin-Manuel Miranda And Alan Menken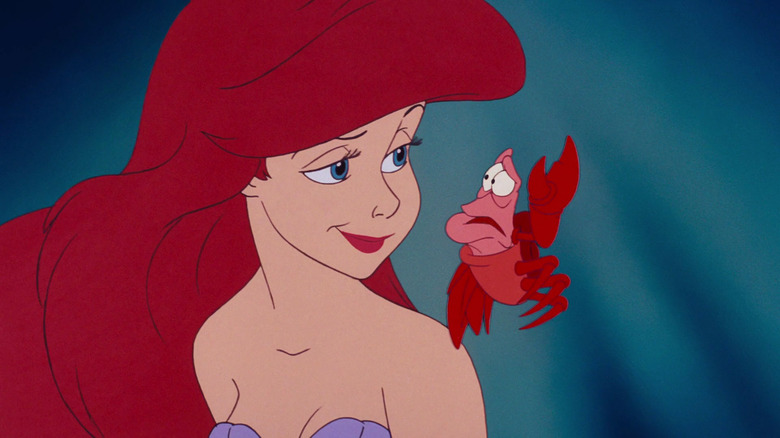 Now that he's no longer starring in Broadway's Hamilton several days a week, Lin-Manuel Miranda is free to do whatever he wants... and what he wants to do, apparently, is become BFFs with Disney. Not only did he help compose music for last winter's Star Wars: The Force Awakens and this fall's Moana, he's set to co-star in the studio's upcoming Mary Poppins Returns. And now he's set to reunite with the Mouse House yet again for The Little Mermaid, a live-action remake of the 1989 animated classic. 
Deadline reported on the Little Mermaid Lin-Manuel Miranda news. The upcoming live-action film will feature classic songs from the 1989 animated movie, as well as new music by Miranda and Alan Menken. Menken worked on the animated feature and scooped up two Oscars for his trouble (Best Score and Best Original Song for "Under the Sea"). Miranda will also supervise the story, although he is not expected to write the screenplay, and produce with Marc Platt.
Miranda has made no secret of his affection for Disney's animated take on the Hans Christian Andersen fairy tale. "I'm here because The Little Mermaid fucked my shit up when I was nine, and I have never been the same since," he told Rolling Stone earlier this year. In fact, his son is named Sebastian in part as a tribute to the crab from The Little Mermaid. November's Moana has him working with the directors of the 1989 film, Ron Clements and John Musker. In that light, Miranda seems like an obvious choice to help Disney out with their Little Mermaid live-action remake.
Disney's recent track record with remakes has been impressive. Last weekend's Pete's Dragon won over critics with its sweet, nostalgic charm, and both Cinderella and The Jungle Book managed to bring the magic back into their study old source materials. They're not all wins – Alice Through the Looking Glass, a sequel to 2010's billion-dollar Alice in Wonderland remake, was one of this summer's notorious flops — but it's not hard to see why Disney wants to keep the good times going. The next re-do coming from the studio is Rob Marshall's Beauty and the Beast, which opens March 17, 2017.
Disney is not the only one trying to mount a new Little Mermaid movie. Universal and Working Title are currently developing their own version with Chloe Grace Moretz starring and Rebecca Thomas directing. But with Miranda and Menken on board, Disney's project already looks poised to offer some stiff competition.
Miranda has occasionally worked for film and television over the past decade, but he's really made his name on the stage, first with In the Heights and then with Hamilton. He is a huge get for Disney, and the studio surely considers itself lucky to name him among its frequent collaborators. Though it'll be a while before we see what comes of his work with Menken on The Little Mermaid, you can get a little taste of their combined charms with their digital #Ham4Ham medley from earlier this year.