Cool Stuff: Help Fund Joey Spiotto's Storytime, A Book Of Cute Pop Culture Art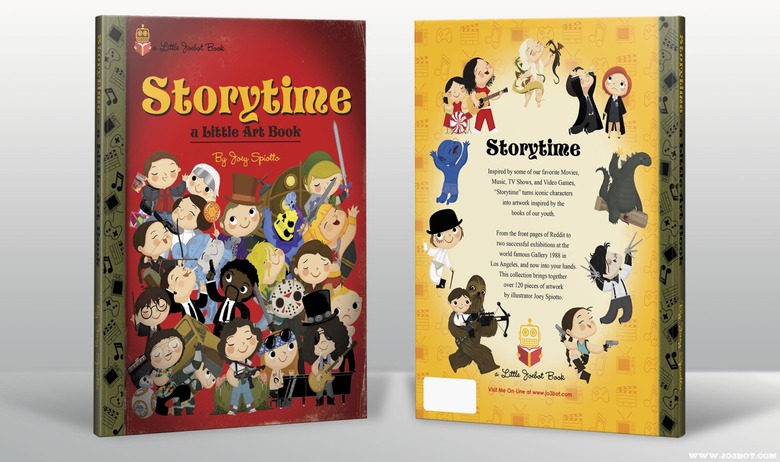 We've written about Joey Spiotto's artwork many times over the past five years, from Gallery1988's Crazy4Cult art shows to the Star Wars Art Awakens gallery show, Joey's tabletop book Alien Next Door to a series of solo exhibitions focusing of Joebot's Little Golden Book inspired pop culture covers. Now Joey is trying to collect his famous children's book covers into a full-color 135-page artbook, and he needs your help to do so.
Here is more information on the project from Joey:
In 2014, I had my first solo art exhibit at Gallery 1988 in Los Angeles, CA. The concept was simple, I took some of my favorite Movies, Music, TV Shows, and Video Games and turned them into covers of children's books. The show was a huge success and the response to my work was overwhelming. "Storytime" reached the front page of Reddit, was featured on sites such as Buzzfeed, Nerdist, Slashfilm, io9, FunnyOrDie, and was even covered by Reading Rainbow. It has been pinned, reblogged, tumblr'd, tweeted, and liked hundreds of thousands of times over. In 2015 I followed up the successful first show with "Storytime 2". Once again, the response was overwhelmingly positive. I have continued the art series beyond the gallery, debuting new prints at various conventions across the United States. One of the things I continually hear from fans that visit me at conventions is that they wish that I would make a book collecting the entire series...
This project is to fund a full-color 136 page book collecting every print from my "Storytime" series that I first started in 2013. But I can't do it alone, I need your help. Each page will feature full color artwork, and bring all of my artwork from this series together for the first time in one collection. This is a book that I have wanted to put together, and that many fans have requested but self-publishing a book like this can be costly. I wanted to do this with the freedom that can sometimes be limited when working with a publisher which is why I'm turning to Kickstarter. Only with your help can this project become a reality. The fundraising goal will allow me to print 2,000 Softcover copies of the book. If the stretch goals are unlocked, each book will be upgraded to a Hardcover book.
A pledge of only $25 will get you a signed copy of the finished book (expected January 2017), whereas a $45 pledge will get you an additional Stranger Things print. I LOVE this Stranger Things print, so this is the level in which I will probably be backing.
There are even more prints and options at the higher pledge counts, including a $500 pledge level which includes two signed copies of the book, all the prints from the lower levels and your own Storytime print based on whatever you want. That's pretty cheap for a commissioned piece of artwork from a top pop culture artist like Spiotto. Also, if the funding gets to the $20,000 level, the book will be upgraded to hardcover. At $24,000, the book will be upgraded to gold-foil hardcover with dust jacket.
Head on over to Kickstarter now to help make this book possible.